*
Often when reviewing a Burda pattern someone asks about linking to the pattern because they can't find it. Burda's website is
awful
. I cannot say I'll always link to a pattern because Burda's site is ridiculous (did I say that already??). I wished you could search THEIR site with THEIR naming convention, but you cannot.
In the search box enter the month and year like "01/2017" and then find the pattern. Sometimes, Googling the name like "burda 01/2017 #106" works...sometimes it doesn't! LOL!
But all of the monthly magazine patterns are on the website, just beware that it sometimes takes well into the month for the newest patterns to be available. (e.g., not all of July is up yet)
Pattern Description:
Women's running leggings
Pattern Sizing:
34-44. I used a size 44, my standard for Burda bottoms
Did it look like the photo/drawing on the pattern envelope once you were done sewing with it?
Well...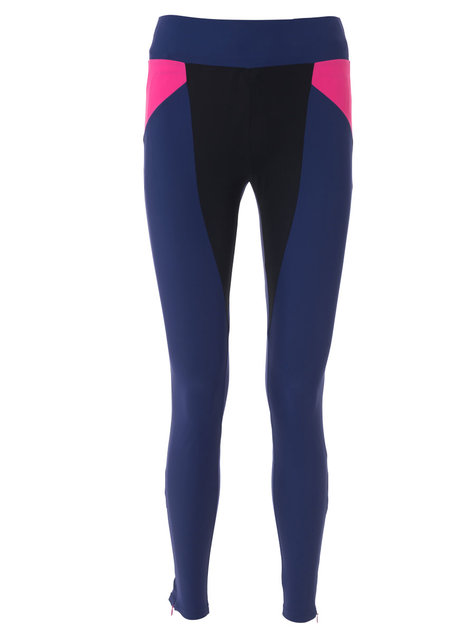 Hahahahaha!
Shameless, shameless copy! I happened to have athletic knit in the stash in these 3 colors and grey. So it was just meant to be!
Were the instructions easy to follow?
They were. The pieces fit together well though because, Burda. I did NOT read the directions for the ankle zippers or waistband finish since I was going to detour from the pattern there.
What did you particularly like or dislike about the pattern?
They're CUTE! Although, on the body, I like the contrasting insert much less than the pattern photo.
Soooo never realized how much my knees rotate inward! sheesh!
For most, a pocket is important and these are lacking. I made this belt thing awhile back so now I'm not worried if exercise bottoms have a pocket or not.
I honestly do not remember how I constructed it but
1) its a tube (there isn't a true pocket)
2) It has one seam in back
3) it's folded over and seamed and the zipper is in the seam
I
think
I must have inserted the zipper, sewed the remainder of that seam, then closed it up on the short end, turning it through the zipper. Does that make sense?? IDK! lol!
I know I measured just smaller than my waist and used the same black knit as the pants, it's thick with a heavy stretch.
Fabric Used:
Blue from SR Harris, black and pink from Fabric Mart.
Pattern alterations or any design changes you made:
Lowered front crotch curve 1"
Scooped out back curve about 3/8" (to create more of an "L" shape)
Left off the ankle zippers (not needed and who wants to fuss with invisible zippers in super slippery knit just for show?! Not I.)
Changed the waistband
I knew I didn't want that bulky elastic waistband finish. I wanted a yoga waistband but worried that it wouldn't stay up when walking (I can't run due to my arthritic knees but I do take long walks).
I examined a recently purchased RTW pair and the waistband was finished just as I thought it was...there was a separate waistband and facing and there was narrow elastic inserted at the waist.
So I measured and cut separate front and back waistbands and facings. Sewed them together (into a circle) and then sewed the facing to the band. I then inserted 1/2" clear elastic (3/8" would have worked better but I didn't have that on hand) right up against the stitching, folded over, pressed and then attached the entire thing to the pants.
I was too lazy to change thread colors, but it's the inside! LOL!
The wider elastic wasn't super stretchy and it's inserted pretty much 1:1. I would put a little more tension on it next time, and use the narrower width! :)
As you can see in the pics it sits very nicely (and is balanced front to back!) and doesn't cut into the skin at all.
AND! I used my cover stitch on the hems! I was able to thread it and play around a little...I still need to practice...but I knew it was fine for hemming these.
This is after they were worn-sorry!
Would you sew it again? Would you recommend it to others?
YESSS! I probably wouldn't do the contrasting insert again--the hip pieces, sure, but not the crotch pieces. I'd also like to experiment with some of that athletic-like topstitching (flatlock??). I really want a pair in a fun print.
I went on an almost-4 mile walk after finishing them and they were very comfortable!
I am really on the mend now! I think all the swelling and bruising should be pretty much gone in the next few days. I have regained quite a bit of mobility. I think I extended my recovery by stopping the icing/pain killers too soon. I hate taking pain meds though!!
A few days ago, I was able to trace off the Grainline Lakeside pj pattern -- no cutting yet, that motion hurts and a rotary cutter is worse -- but that's okay. I pretty much figured no additional sewing for July so it'll be a bonus if I can crank those out.