I expect we'll see a lot of this pattern. It's quick and easy and fun. It looks far more complicated than it is...lots of bang for the buck.
This pattern is worth going for a wearable muslin. I love this print - LOVE. But this is one of those ITYs that feels...something. It's not completely icky but I don't think I'll be able to wear it once the weather warms up. But the pattern pieces are so oddly shaped that going through it once when there's less at stake is worth it, IMO.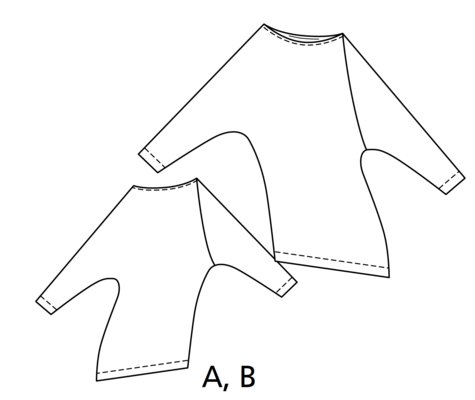 Once you get the lay of the land though, it's a quick zip through the serger if you have one; otherwise it's a front and back seam then the side seams (which include the sleeve seam). Hems (I used the coverstitch) and done. When you put it on, the twists just happen! It's awesome!!
The neckline doesn't sit wide on me but I have narrow shoulders. It wants to roll in almost like a shallow cowl. I'm okay with that.
I used a size 42. I didn't reduce the neckline because I wasn't 100% sure where the neckline was! LOL! I also need a to add space to the sleeve. In a fabric with less give than ITY they may be unwearable. I'll add 1/2" to 3/4". I didn't add any hem allowance to the bottom or sleeves and hemmed at 5/8".
I also really like this length on me. I put this on for pics and didn't want to take this outfit off! Fabric is from Fabric Mart purchased ages ago. I had 2 yards and had a decent chunk leftover. BUT the pattern pieces are large and oddly shaped so you want to make sure you have enough.
I'm pretty wild (har, har) about the cut-on sleeve. It's one of my favorite styles!!
Love. Love. Love.
My coat is in progress!