I came across this pic last October and decided I
needed
a trench skirt.
The patterns I found were generally A-line or fuller and I wanted a pencil shape. I've also had this skirt from the 4/2014 issue on the brain since back then.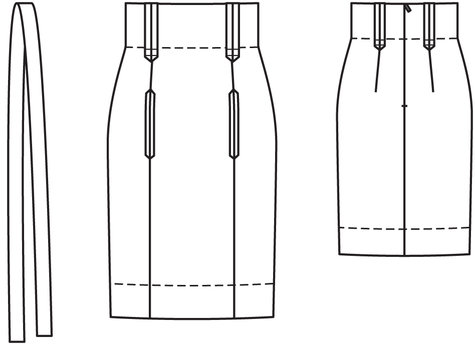 I decided the silhouette and seaming made for a great starting point for my inspiration skirt.
I used a size 42 front and 44 back. It is VERY high-waisted. Oy! I have a short torso so I removed 1" from the "cummerbund" as Burda calls it. I could have removed another 1/2". I knew I wanted welt pockets and attempted to redraft the pocket bags from these inseam pockets - it didn't go that well! LOL!!! I almost serged off the pocket bags to just leave mock-pockets. I didn't but I have tiny, barely usable pockets.
I freehanded the storm flap. I had intentions on anchoring it in the side seam but totally forgot and sewed up that seam. I had already trimmed and graded and top-stitched an was not about to redo it all...so I just topstitched it in place like you would a pocket flap.
Construction was fairly straightforward once I had my idea down - it's a pencil skirt! I got it basted and tried it on, let it out through the waist and high hip, then realized it was 'that time' and sat it aside. When I came back to it, I went BACK and sewed all the seams at the original 5/8" seam allowance. I did not topstitch the facing in place.
I rarely add hem allowance to Burda patterns and so I skipped it. But I really liked the length of this unhemmed. I was going to do a facing but then...
I was going to make buttonholes (but not cut them), and the first one was terrible but salvageable since I wasn't going to open it. But then I did the second one and it was completely mangled. I thought the skirt was a wadder! At the very end!!!!
Instructions for removing buttonholes is to remove the stitching on back and remove them from the front. But this is a stretch
twill
and those tiny zigzag stitches (in this textured fabric) were NOT going to go quietly! I did my best, steamed it a bunch and moved my button markings over just a tad to try to cover the mistake. I think I'm okay with it NOW.
So after all that, I folded up a 5/8" hem, topstitched, and considered it done! :)
I went back and forth on whether or not I was going to have functional front buttons for the closure...or if I would sew the front closed and add the zipper in back. In the end, because it's a pencil, I decided to use a zipper. I didn't want to potentially have gaping along the button-front.
You can see where I did diagonal stitching on the front so the lower fronts could remain free from each other. The front is hemmed and then topstitched down.
If you look closely, you can maybe see the not fully removed buttonholes??
Invisible zipper, bias tape finish to the facing, hand stitched facings to zipper
I really, really, really like it. I remember ordering this 'gingerbread' Thakoon twill from Fabric Mart and when it arrived, I did NOT like it. I think that's part of the reason I waited so long to make the skirt. I couldn't bring myself to buy more fabric for this project and then nearly as soon as I started cutting out, the color really started to grow on me. I am SO happy with it now. Maybe because it feels very 'fall'?? Idk, it works!
The only thing I wish I would have done differently is the width of the belt (not from the pattern dimensions). This fabric is kind of stiff and it could have been slightly narrower. But I didn't have enough fabric to cut a new belt and had already topstitched this one, and was NOT about to take it apart to cut it down! LOL!!! Not. Happening!!
The outtakes that made me smile :)
IDK why I look so over it! LOL!
I don't know what I was looking at!
Also, I was in these booties for a matter of minutes; I am side eyeing all the fashion bloggers styling outfits with booties. And it's only about 70 degrees in Minneapolis today. Too soon. Too, too soon! :)
I went from being unsure if I would be productive in September to having 5 finished projects already! LOL! I have a couple TNTs and a fail :( coming to the blog this week!
Until later!