Let me start quickly with my December wrap-up. I ended up getting one more garment in after posting my 2019 wrap up.
This month, I sewed 13 3/8 yards. I found my mojo a bit lacking during my vacation but still managed to sew 6 of the items in my "Sewcation" post!
New Look 6644 pants - 2.5 yds

pink cotton sateen, buttons, elastic

New Look 6644 top - 1 3/8 yds
Burda 6990 top - 1.75 yds
Burda 2/2017 skirt - 1 yd

painted cotton dobby, zipper

Vogue 9210 - 1.25 yds
New Look 6418 skirt - 1.5 yd (possible wadder; I'm not sure about this faux leather)

black faux leather, zipper

Simplicity 2700 pants - 2.5 yds

herringbone cotton/linen suiting, zipper, hook & eyes

Burda 4/2010 shirt - 1.5 yds

striped cotton shirting, buttons
Sewcation results, L to R:
Finished bias binding the armholes of Burda 9/2018 dress
Finished bar tacks on Style Arc Sandra jeans
Sewed Burda 4/2010 shirt
Sewed Burda 2/2017 skirt
Sewed Burda 6990 top
Sewed Vogue 9210 leggings
Sewed Simplicity 2700 pants (not shown because they refuse to dry?!!)
Sewed a muslin for McCall's 7982 (not shown)
Welcome 2020!!
I cannot believe this year has gone by so fast, not to mention this decade! Decennial is such a weird word :)
Life is getting more and more expensive and I need to reassess *everything*. I need to spend much less the next year than I usually do including on sewing expenses. That means patterns, fabrics, notions, all that. And it should be doable because goodness knows I have the stash for it!!
Back in August, Vogue released their fall patterns and I bought like 10. I have yet to sew any of them. Now, that's fine, I don't feel like I must sew every pattern I own. But I do feel like I don't need to rush out and add to the collection. There are at least a couple of these that I'm rethinking after seeing versions made up (like Vogue 1643).
I purchased A LOT of patterns this year. I. Have. Sewn. 7. SEVEN! (This has been updated. I went purely off of dates in my PR pattern stash but after organizing my patterns and auditing them, there were a bunch that hadn't been entered. My tracking spreadsheet shows 89 but PR shows 125. Let's assume I purchased somewhere around 100!) :)
So I will be watching my pattern buying. I don't feel the need to put a limit on the number of patterns, but I am budgeting $50 for the year on patterns. Since I primarily buy Big4, this shouldn't be as difficult.
I'm going to keep my Burda sub (just renewed for all of 2020) and cancel Ottobre, Threads and SEWN.
Oy. I have a stash. I don't mind having a stash. I rather enjoy having a stash. I'll never become a per-project-basis type sewer.

But I have a lot of fabric and it currently feels overwhelming. I don't like to feel overwhelmed. When I finally organized this year (after last summer's move), I got rid of some stuff then but need to cull the stash again and remove things that don't feel like "me". There are pieces that I routinely pick over and so they need to go.
I am setting a low fabric budget for 2020 of $250. I will only be buying fabric if "needed" for a project. Because, while I have quite a bit that makes me feel like it doesn't belong, there's a ton that I love and want to see made up. So I'll be stash-diving in 2020!
I never include lining and interfacing in "fasting". I will include lining this year as I bought a TON during an awesome FM sale. I will not include interfacing because you need the right stuff for the job.
Notions
I have so much stuff. So many buttons and snaps and hook & eyes and thread and, and, and. I'm going to designate this as an "as needed" category. I will shop the stash first and try to make existing stuff work.
I really want to sew some stuff for my husband. I just took his full measurements and plan to sew his corduroy blazer early in the year and hopefully a pair of jeans at some point.
I need more outerwear! I have 4 coat patterns I really want to sew! The 3 below plus a trench coat. I think I can commit to 1 outerwear piece per quarter with my output.
center pattern is V1479
I need more cold-weather loungewear and want to sew at least 2 long sleeved sweatshirts/tops.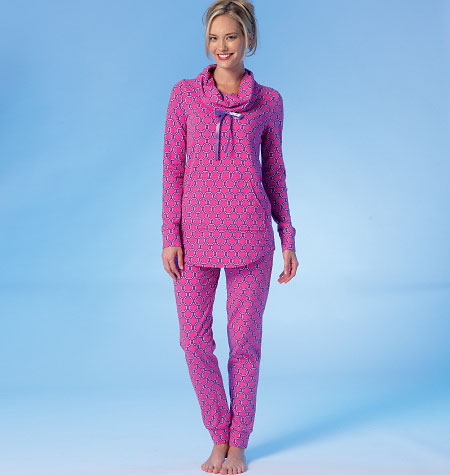 M7061 has been on the radar for forever. I have really cute fabric for it too.
I am still floundering during summers and not feeling put together most days. I am really going to try to assess my style needs during the warm months.
Pick up the Burda challenge again. I was going through my binder and reflecting on all the stuff I made. I really loved quite a few things that I ended up sewing because of the challenge!!
I will continue blogging. I don't mind IG (though I despise the algorithm) but I just don't find it helpful for sewing as I don't want to interact so passively within the sewing community. Scroll. like. Scroll, Comment. Scroll. Scroll. Scroll. meh. I want to read about the process of sewing a garment! I don't want to have to try to remember who posted what; or have things disappear in stories that I was interested in. Blog content is "google-able". I like that. And, I am 110% an "to each their own" kinda lady but I don't understand the 'blogging is too much work' but will post a series of 8-10 pics and 4 paragraphs on an IG post. HOW is that any less work than blogging?!?! Me thinks it's preferable because it comes with the instant gratification and the instant interaction. But seriously, to each their own.
So, I don't have a ton of goals for the new year and am hoping for a super chill, relaxed year.