Hahaha. Apparently my blog titles are just full of corniness now?? :-)
L: poly crepe knit panel from Fabric Mart
R: ITY knit from SR Harris
Audrey over at SewTawdry posted her version of this pattern and made me go WHAT?!
That
pattern was in the August issue?? She had modified it to remove the lower "peplum" (hardly) and elastic waistline and it took on entirely new life!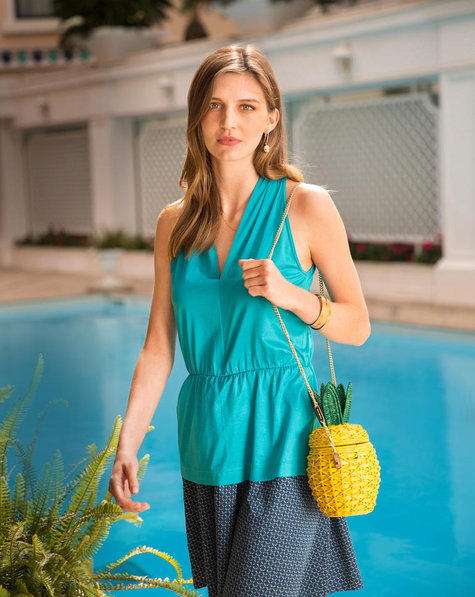 I'd just gotten my Fabric Mart order and had this beautiful panel of a crepe knit and had to have THAT top in THIS fabric! I traced a straight size 40 (to fit neck/shoulders) because I knew I'd need an FBA. I found a heavier ITY knit to use as muslin in my donate pile that the silly movers moved even though it was in the donation pile. grr.
Right away I did a 1/2" swayback adjustment (there is a CB seam but it didn't have a ton of shaping), lengthened it 6" beyond the waist marking and raised the armhole 5/8" based on Audrey's mentioning that they were low.
After muslin #1 I did a 3/4" FBA, lowered the armholes back down to the original line and added an additional 2" to the length. I'd also sewn the full 5/8" seam allowance.
I sewed muslin #2 with 5/8" under the arm and then tapering to 3/8" the rest of the way. I'd sewn the 'v' up another 2-3" on muslin #2 but then realized I didn't really need it. Muslin #1 was so low because it was just too small over all; not enough bust room.
Also, based on muslin #2 I realized two other things:
1) I needed the 0.5cm from shoulder to bust that is removed for the petite sizing -- I actually added 1/4".
2) When I rotated part of the FBA into the pleat, I changed the angle of the shoulder. It was wrong on the muslin and v1 and I couldn't make out in my head how to fix it on paper. On v2, I ended up adding directly on the fabric how I thought it should be and it sort of worked. Once the pleat is folded out, the angle works, but the pleat isn't matching up "perfectly". I'll have to think about that a little more.
These two are actually the same length!
You can see it fits better through the armhole, bust and waist on the second muslin.
My fabric cut wasn't long enough for a full back piece! :)
Here, on version1 the side seam was really curved.
After making all of the adjustments, I'd gotten it all laid out on my table and was not about to disrupt it to place paper underneath so I just used painter's tape to hold it and traced over it to create the new pattern piece.It works! LOL!
I rotated part of the dart into the pleat and because I wanted to add more length overall, left the ~1" at the dart, added 1" below the waist and added 2" in length to the back piece.
(I actually wonder if it should be just a little bit longer...)
Lastly, I couldn't understand how they wanted the shoulders connected and tried a few times unsuccessfully. I reached out on IG and Allison sent me pics of how she was doing hers. I had tried that and it didn't work either! And on the finished tops, the back facing doesn't really line up with the shoulder seam. BUT, when it's on my body, it stays put so I may not worry about it too much.
On version 1, I started to bind as instructed but really liked the look of the band and lack of topstitching. So I removed that and cut bands. I made the mistake of using the same measurement and had to unpick in order to ease the armhole in/not have floppy bindings. I ended up with a tiny hole on v1 that needed fixing.
I really like the cut in shoulders that results from the French binding they want you to use...but I also those pads of fat on my upper back - it's probably the only part of my body I'm actually self conscious about! - so I like the coverage of the bands, plus I can wear a regular bra.
Both were sewn with 5/8" seam allowance under the arm tapering to 3/8" for the rest. Both received a double-turned hem and bands to finish the armhole.
I tried v1on with a few things Sunday night and on my lunch on Monday, went to SR Harris to find another knit for v2! I prefer the Burnsville location for everything BUT knits. The flagship store has SO many more options. But I do like this print.
Maybe an inch longer?
jacket is NL6481
So from Friday to Monday, I sewed the blue tie sleeved top, then the darker version of this top, then the grey tie sleeved top, then the brighter version of this top. Whew! :)
I cannot promise these patterns won't make it back on the blog!