How are you holding up out there? So far, I'm doing well. We are all staying healthy, I'm still working full-time, and sewing & crafting up a storm. I am grateful for the opportunity to work from home in that, I am still collecting a paycheck and my employer understands that health & safety comes first. But I am so not a work from home full-time person. I would never choose this full time! I could see working from home a day or so per week but not full time! gah!!
I DO like having a few minutes here and there throughout the day for sewing or crafting or exercising or food prep. Makes a huge difference in what I can accomplish each day. NOT that I am one of those people yelling about how productive we need to be during quarantine. I'm just a natural busy body. I've spent the odd day here or there in the bed (like the Saturday I literally stayed in bed til 2:30 p.m.!)
This month, I sewed 6 items for a total of 11.5 yards.
Simplicity 2246 dress - 2 yards

striped double brushed poly from Fabric Mart - stash
buttons, elastic
McCall's 6754 dress - 2 yards

floral double brushed poly from Fabric Mart
elastic
McCall's 8028 jumpsuit - 2 yards

distressed french terry knit from Fabric Mart - stash
elastic
Burda Mag 4/2019 jacket - 2.5 yards

black cotton twill from Mood
buttons, D-rings
Burda Mag 5/2020 top - 1.5 yards

black cotton (voile? lawn?) - stash
buttons
Burda Mag 4/2019 top - 1.5 yards

white rayon challis - stash
Today, I also worked on some baby gifts but those are all from the remnant bin so I won't count them in the out totals.
wip
Favorite:
This was an excellent month. Everything I added is pure perfection (to me)!
Accomplishments:
I hacked that McCall's dress into exactly what I wanted! Woot! And I turned that Burda magazine jacket into my perfect vision!
FAILS:
None! woohoo! If I had to list
something
I'd say it was using the distressed knit as the pocket bag on the jumpsuit. It basically renders the pockets useless because my fingers get caught in the darn fabric!
My plans last month:
M7925 dress in a cotton/rayon voile
M6754 dress in a floral knit
S2246 dress (maybe) in a striped knit
Burda 10/2017 or S8843 (I need to look at the shape of the pattern pieces of both) in a black cotton twill as my Q1 outerwear project (slightly behind!)
M8028 jumpsuit in a distressed knit
B5526 shirt in white cotton shirting w/silk organza accents
So close!!! I sewed 4 out of the 6 plus a couple more!
For May, I plan to participate in Me Made May as I have! I pledge to wear something handmade every day.
If you don't follow SoZo or if it's your first time, Me Made May isn't a photo challenge - it's okay if you don't post pics on social media or if you do post, if you only post occasionally! I've also seen lots of people say they don't participate because they "don't have enough" handmade stuff. No! If you want to participate and you have ONE handmade thing, you have enough stuff!! :-D
For May, my sewing plans aren't at all focused! It's usually cooler "spring-like" temps throughout May and June with some warm spikes. Without knowing when we'll be outside again, I'm on the fence about spring vs. summer. I mean, there isn't a TON of difference for me but there are prints and patterns that are decidedly summer. We'll see.
Right now, I *want* a few things:
I saw a navy tee at LOFT that is very similar to the 'hacked' McCall's dress except it's floaty. I will make it a bit fitted.
Also at LOFT was a striped v-neck that is *very* similar to the top I made from Ottobre 2/2018 (except with short/cap sleeves) so I'll be making that.
I plan to make S8389 pants in the amazing black crepe I picked up from Mood.
And I happen to have 2 black & white fabrics that are slated for dresses - a heavy crepe for Burda 2/2017 #114 and a rayon challis for 5/2020 #107.
I like fit and flare! The first pattern has a fabric-hog of a skirt and I don't have enough fabric for that and will do a gathered skirt.
I'm waiting on a PDF Plotting order so I can sew up the Style Arc Clare pant in a navy and white drapey polyester suiting from Fabric Mart.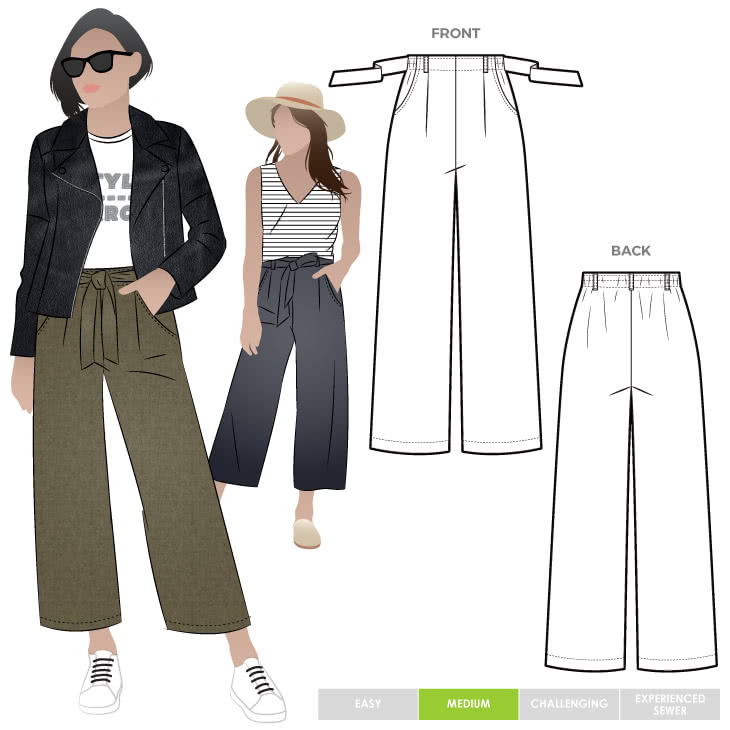 And I still want M7925 in the cotton/rayon blend voile from Ginny's!
That's about it for now (hahaha!) :-p
Lastly, what is up with the BMV site and lack of sales!? I want some new Buttericks but not for $16...And I won't even begin to comment on that Vogue release. Not. For. Me.