This round was a struggle! I had decided on a vest, poured through my paper pattern collection (on PR) and through the BMV catalog. I really wanted to make Vogue 1510 but there was no pattern sale in sight. To the Burda catalog!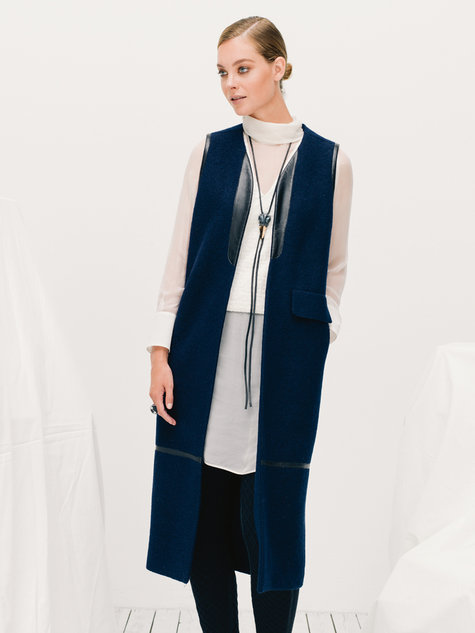 I knew that making this reversible would be doable. I knew I was going to use the denim and searched the stash for a compatible fabric. I needed something that would coordinate with the black piping and bias binding at armholes and hems and was wavering between camel and olive. I then saw the coat from my last post and took to Amazon to find appliqué. When I found these, I knew I had to go with the olive.
I ordered these on a Wednesday, they were supposed to arrive Friday. They did not and I had to cancel that order and order a new set Friday night with guaranteed delivery Sunday. They did come Sunday afternoon - huzzah! I spent a lot of time on placement and then started stitching them by machine and it felt cumbersome. So I somehow decided hand sewing would be easier. Oy. Don't do that.
Can you see my stitching? :)
Shout out to Carolyn! I knew I had to be aware of finishing the connecting area of my piping.
It's so neat <3
I'd cut the pattern in a size 40 based on "omg so much ease!" and umm, yeah. I should have cut my normal 40/42 graded to a 44 in back. Sigh. I'm sure the doubled fabric isn't helping. Anyway, the denim was actually constructed first but we'll get back to that!
I decided to skip the pleather on this side so it wouldn't get too bulky through the front (denim + suiting + 2 layers of pleather + piping!). Again, concerned about bulk, I eliminated the inseam pockets on both sides. I decided on welt pockets for this side and then accidentally placed them according to the line for the flap on the pattern. They are too high to be comfortable. Bleh!!!
As I was placing the appliqués, I decided to sew the pleather band per the pattern to tie in the black binding and piping. I then hand sewed all those appliqués in place, switching between green and pink thread, and was quite pleased with it. It wasn't until I attached them that I realized the denim is too heavy as a backing for the suiting. The other way is fine.
You can see it's just a bit heavy looking
On the denim side, I had a lot of ideas! I decided to create this draped back and had split the back piece and extended the lower back. It turned out that the denim was far too stiff for that. I had to undo the topstitching and side seam stitches and remove the excess from both sides.
Because I'd used hardware in my prior two entries, I wanted to incorporate some in this one too. D-rings were the way to go! I'd used a back pocket from my son's old jeans and decided that fabric was perfect to create the ties for this back piece. It's worn denim so it's very soft and when I serged the ends, I just LOVED the effect.
The pleather pieces are NOT lopsided - Lily is! lol!!!
I was going to make a zippered welt on the other side but didn't have a zipper in stash that really worked. Lightbulb moment! I went back to the jeans and unpicked the zipper and used that! It is a perfect match to the vest!
It isn't in good working order -the zipper is very stiff and catches- so I didn't make it a usable pocket.
I bound both hems (separately) with the same bias tape as the armholes.
I am very happy with both but
LOVE
the denim side. Love. Love. Love. I am going to separate them. I knew this before I finished and had full intentions on using a longer stitch on the fronts and armholes and forgot! OY!
The best part of the Bee is that I've been challenging myself to think outside the box. I'm glad that I still can say I have only made things I'd actually wear. The time crunch means yes, there are tweaks I want to go back and make...but so far, all of my pieces are quite 'me' and fit into my wardrobe.
We'll find out about advancing to round 4 on Saturday!