I love these pants. I know I say I love a lot of things but I really, really, really love these pants. Okay I really, really love them. Less one "really" because the fabric is decent but I can only imagine if I had used something a little nicer. Ahhhh. So these are already on the 'must make again' list.
I mentioned seeing a pair of pants that I couldn't get out of my mind. My kids' cousin's mom (haha) had them on and I was so smitten. She bought them so long ago she said and can't remember where she got them. I went straight to Burda because, Burda.
This pattern
isn't *exactly* right -- these cut back in after the hip whereas the inspiration pant was a true trouser fit. It hit the hip and went straight to the floor. But I am so happy with the fit on these that that's okay.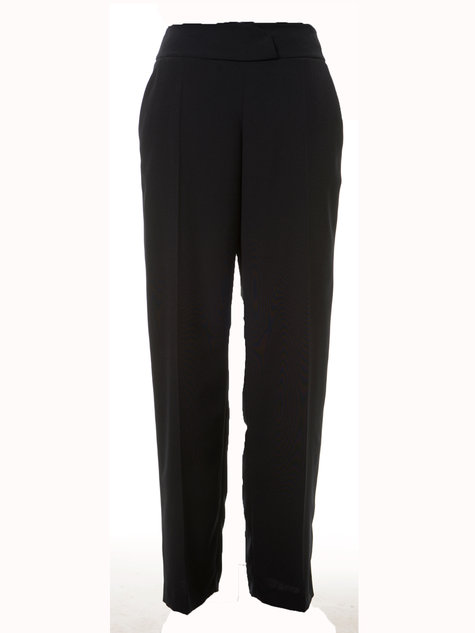 My fabric is an RPL (rayon-poly-lycra) suiting from Fabric Mart in a plum color. I also had a cut of plum crepe and THAT fabric was the color I thought THIS fabric was. This is a bit more red than the other and I was very dubious when I first pulled the fabric out. But thankfully, I went for it anyway!
I usually use a size 44 for Burda pants but went for a 46 as I'm currently fitting in the middle of the two. I apparently have some extra padding! I measured everything and decided I didn't need to add to the back rise at all. I traced the front crotch curve at the size 44 mark and removed 3/4" via a wedge. Where I would normally add back to the side seam what I lost from this adjustment, this time I did not. I trued the CF and proceeded.
I only had 2.5 yards of fabric and thought I'd have issues fitting the pattern pieces (they say 2 yards and that is accurate if your fabric is closer to 60" wide). I decided to use 5/8" side seams and 3/8" everywhere else.
Forgot about the CB zipper. I had a 3/8" seam allowance back there and had to make it work. So my zipper installation isn't perfect, I have some of the tape peeking through. Womp womp.
I took a few pictures of the process of sewing the curved waistband. First, I chalked the seam line around the curve and sewed that before sewing the rest. I used a very small stitch length so I could navigate the curve easily. After sewing, I use my seam gauge to check the that the seam allowance is correct and then sew the rest of the seam. Then, I notch the curve...
And yes, I did have to redo a section on the other half!
and then trim it down.
After turning it out, I use my hemostat in the closed position to smooth out the curve, and then press!
ta-da!
I used my new favorite, the FM interfacing. The pattern called for interfacing waistband and facing so I went with the lightest weight option.
I was SO CONFUSED on the waistband instructions!!! I'd brought the magazine with me to our MinneSEWta meet up and intended to ask a fellow Burda user what she thought...but totally forgot. I finally decided to tackle it and just slowly went through it sentence by sentence. I didn't get as clean a finish inside as I'd like, but I get what they were instructing now.
The front waistband overlaps. They have you sew waistband and facing together first and then attach. But you have to attach the outside of the waistband, that facing, and the outside layer of the inner waistband while leaving the facing of the inner waistband free. It was very weird because once you're outside of that few inches on either side of center front, it's a "normal" waistband application. It took some finagling and I'm not even sure it's worth it! LOL! I slip stitched the upper curve but now I'm torn if I should remove the stitching or if I should slipstitch the entire thing down. If I made them again I'd just use a normal waistband.
I wasn't sold on the butt zipper but I'll take that over a side invisible zipper any day. I hate invisible side zippers.
I basted the side seams and tried them on and YAYYYYYY! I got the seams sewn and got everything pressed and did a blind hem by machine, and attached the facing to the zipper tape by hand.
And then proceeded to try them on a ton of times while bemoaning my inability to get photos. I finished these on SUNDAY!! The only reason I was able to get photos today is because I'm working from home. Because my car is in the shop. Because apparently Ford SUCKS so my transmission control module and clutch died. Even though I tried to get the KNOWN issue repaired several times. And they kept telling me it wasn't bad enough for Ford to repair. Even though there was a class action suit over the issue (which has been settled and is pending final appeals, etc). So yeah, that's my day! AND THEN I was unable to find my remote. So I had to use the timer. Snap. Walk back. Snap. Walk back. WAHHHH! :)
I love it with the black and white sweater but not with these shoes. So I changed shoes and tried another top :)
my top is RTW...
I compared this crotch curve to my TNT V9032 and it was a very close match!! Also, Burda didn't suggest it (and they normally do...maybe only for fitted pants?), but I stretched the back inseam a bit. It really makes a difference.
Lastly, I added and used a 1 1/4" hem allowance as I knew I'd wear these with heels.