I have to review this before I forget any of the details about sewing it. I should say, I wore it to work one day this week.
#BlurrySelfie! :)
It's
fine
...I am not saying anything is
wrong
with it...just that the vision of pattern + fabric didn't mesh. I wish I'd used the solid black jersey like I started to and saved this fabric for something else :(
When I first posted about being iffy on it, someone suggested hacking off the skirt and making it a top. Mehhhh. I'd likely give it away before I do that.
I realized with this make (and actually with the Cashmerette Appleton too!) that I'm just not into to true wrap dresses. With the Appleton, I kept asking myself, "why don't I like it?" but that may be it. This dress, being already in the 'not-loved' pile, annoyed me every time I went to put it on. (I tried it on several times over the last 2 months trying to change my own mind!)
I'll stop being debbie-downer now. LOL!
Drama queen!
I sewed my 'normal' Burda combo of sizes - 40 for the neckline and shoulder, 42 through the bust and waist. I used a 42 front skirt and 44 back. Looks like I need to start adding a wedge to the back of skirts/dresses.
I used a binding on the neckline instead of their facings - no way was I using facings in a jersey knit! I like the pleating and the asymmetric skirt front!! Also, I chopped off the sleeves after sewing them. I've mentioned before that I rarely like full-length sleeves on tops (especially knit tops).
Other than that, it was actually a pretty straightforward sew. Remember to clearly mark your pattern pieces - left front and right front are different and the shapes make it tough to distinguish top from bottom!
Let's move on to a LOVE, LOVE, LOVE! :-D
I was inspired to make a black maxi dress for layering. Not sure if I saw something or what...but I started looking around online and this is pretty much what I had in mind, without the 'nakedness'!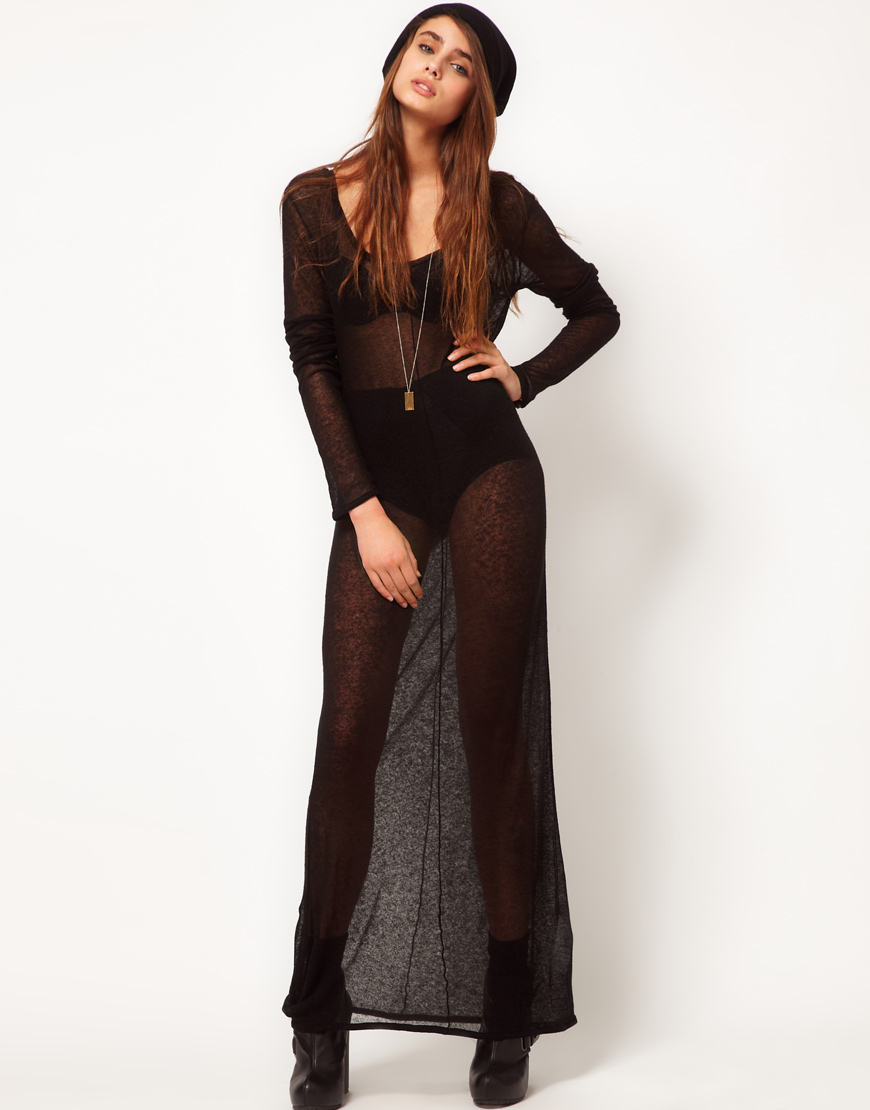 Tried & true M6886 to the rescue! :)
My Love Affair With Sewing
sewed this version in a sweater knit and like me, she normally used a binding on the neckline of this pattern but opted for the turn-and-stitch method the pattern recommends. And used her coverstitch to do so.
I decided that's what I'd do too! And because many sweater knits can be quite open and drape-y and stretchy(!), I decided I needed to practice. My serger required the differential be turned WAY up to feed this through evenly. I clicked up the differential on the coverstitch, and actually made a little sample neckline:
It stretched out a little bit and so I cranked the differential up a little more...PERFECT!
I always have a small bit of extra fabric in this pattern in back but it doesn't bother me enough to make me add a CB seam to the pattern. It's less of an issue in heavier fabric.
The other thing...I bought 4 yards of fabric back in April, along a bundle (and this was actually the same order that I got that awesome plum suiting!). The bundle had 2 yards of this fabric in it. Doh! So I have more black sweater knit projects coming. LOL!
Laying it out was a little bit of a headache but it has a slight ribbed texture to it which helped GREATLY. The rest of the construction was easy peasy because 1) I've sewn this a million times (normal size 14/16/18 blend for neck & shoulder / bust & waist / hip). and 2) serger + coverstitch. Fast, fast, fast. Not much to discuss via details...I used clear elastic in the shoulder seams and sewed it at the 'out of the envelope' maxi length.
And YES, it is a bit sheer but I purposely made it to layer over something! I'm wearing a black knit cami and black leggings. I've already worn this outfit and every time I look at the dress I get excited. Win.
NL6530 is still stalled. W.A.H.! I started tracing out the jacket from Burda 12/2017 and it's so many pieces. Ughhhh. I have a few more to go but I temporarily moved on to my knit loungewear mini-wardrobe and sewed the leggings from S8424 (2 pair). I will likely save the blogging so I can group all of the pieces from the pattern in one post. The blog will likely get pretty busy over the next few weeks. But, I love this time of year when everyone starts to wrap up their hits and misses! Makes for tons of blog reading - keep 'em coming! :)