This month I sewed:
Vogue 9022 dress in black/white sweater knit
Burda 8/2017 coat in red wool fleece
Infinity scarf in plaid cotton flannel
Ottobre 5/2017 sweatshirt in ivory ponte (for my daughter)
Burda 11/2017 skirt in caramel/cream wool blend suiting
Favorites: I had a great month!! I really love all 3 garments (for me) that I finished!
Accomplishments: I will say it sure was something cutting into a perfectly made sweatshirt but in the end, it turned out so cute! Alls I got is a bathroom mirror selfie!
FAILS: None this month unless you want to count my not loving the flannel scarf with the coat. I have worn them together though.
What's next...so many wants...I am really trying to stick to adding the basics that I need. I'm going to do so without focusing on SWAP. I keep pulling stuff out and putting it back trying to figure out my next project. I think forcing myself to think in terms of the SWAP was a little stifling. Even though, as I mentioned, the majority of things in my SWAP were already planned items from my fall/winter sewing list posted in October. I've already made 5 or 6 items on that list.
I have a lot of clothes. Duh, right? (I have a lot of storage too!) But as my sewing has improved and fabric purchasing too, I'm holding on to things much longer than in the earlier part of my journey. So for the rest of
fall
winter, my focus will stay on basics. It's me so there's no way I'll make it without any "shiny" creeping in, but I will really be planning to sew from this list.
Black is one of my neutrals. I need a black skirt, trousers, dress and jacket. I need a light colored jacket, more solid colored dresses, a casual pair of pants (that aren't jeans), loungewear and outerwear.
Pants
Simplicity 2700, a TNT, in taupe RPL. For summer and fall I was all about my slim fit ankle pants! I wore a pair of my S2700 pants recently and now I need MOAR pants!! :)
Burda 3/2013 (it's a plus pattern) trouser in plum RPL suiting. Over Thanksgiving, I saw a pair of flat front, wide legged trousers and I had to have something similar! These are already traced off, seam allowance added. I am leaving off the pockets so they should go pretty fast.
Vogue 9032, my TNT, in black wool blend suiting.
Burda 7/2017 in a tan suiting. I like the
idea
of this casual pant in a suiting. We'll see!
Birkin flares in a medium blue that really gives me a 70s vibe. My first pair of Birkins are a favorite but I messed up on the zipper and so I can only wear them with longer tops. These will be pushed though. Perhaps February or March. Partly because I doubt I'll wear them much during winter and also because denim is particularly hard on my hands, even before the injury.
Skirts
Butterick 5760, my TNT straight skirt in black wool blend suiting lined with Bemberg.
Top/Skirt
I almost listed New Look 6530 a dress but it's a top and skirt! I'll use a navy Ponte. I'm still deciding on the contrast. What do you think?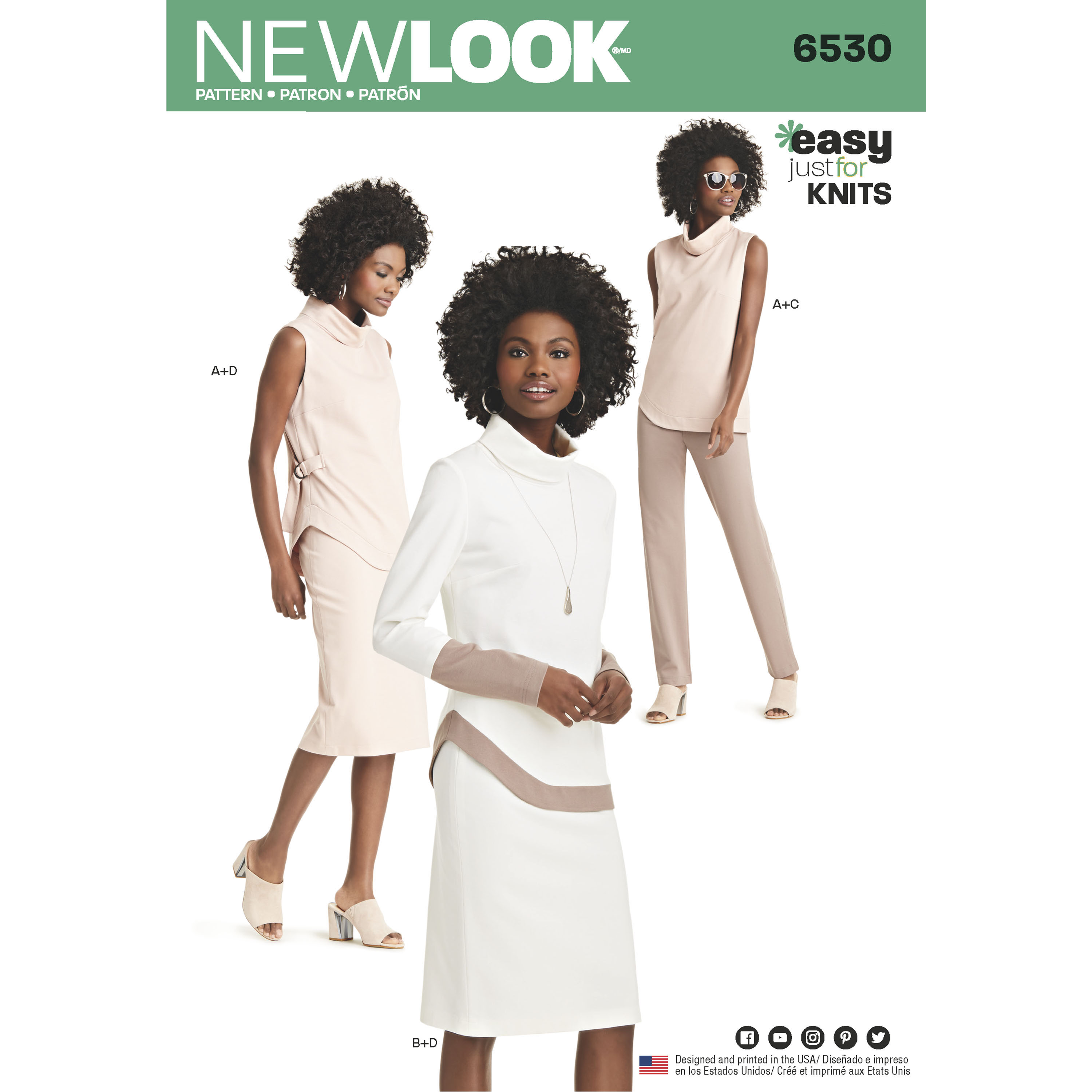 Dresses
Burda 6853 in black sateen with lace accents as on the pattern envelope.
McCall's 6886 in a maxi length in a black sweater knit. I got this idea and now I
gotta have it
.
SOMETHING with my black floral rayon challis. I want to wear this fabric! LOL!
Toppers
Burda 11/2007 in black wool blend suiting. I muslined this awhile back and cut it out and started sewing it in a different suiting. But then I decided I wanted the black one to be the longer view with pockets. I'll have to trace it and make the adjustments again. Boooooooo!
Burda 12/2007 in winter white boucle. I'm excited about this one!
Vogue 1569 in the striped boucle that I went gaga over.
Loungewear
Burda 1/2018 slouchy tee in burnout jersey.
PJ pants, fabric to be determined.
Simplicity 8424 loungewear. I have fabric for all 3 tops and 2 pair of leggings.
Outerwear
My outerwear plans are major! I have 3 pieces I want (whew!). I plan to tackle one per month.
February
I really want the Clare coat. I do not own a black coat aside from my down coat. Plus, I already have everything for it! Wool, lining, gold piping (!) and a 'gold' zipper.
March
It will still be winter here but we'll start to have random warmer days towards the end of March / beginning of April. I can't stop thinking about Burda 8/2017. And I decided it HAD to be navy. And then....the skies parted and there was a 'By The Piece' navy wool melton at Fabric Mart. 2.25 yards for $21. So yeah, THAT is happening. I will be extending the sleeves to full length though.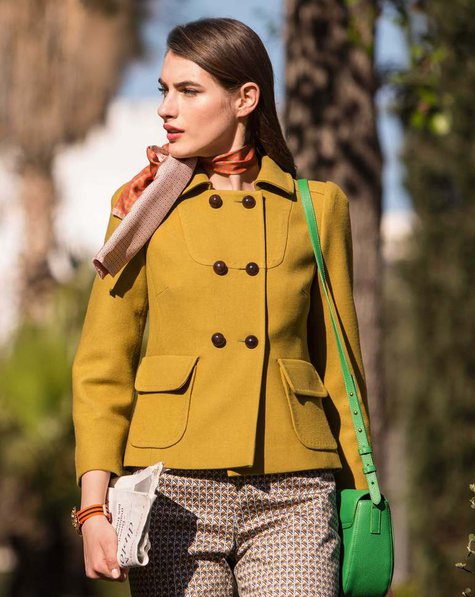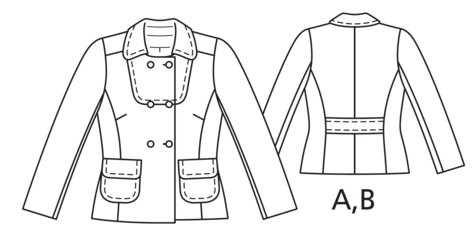 April
I need a new trench coat! Mine has been too small since forever but it was my best option in spring as a dressier jacket. I have the vintage Simplicity pattern. It's a size 16 but it may still be too small because vintage. We'll see how the muslin looks when the time comes.
I loved the Named Isla but they no longer offer a print version and don't offer a copy shop option. I will not pay $20+ for the PDF and print and assemble tiles...Too much.
Otherwise there's Burda 11/2012. They have SO many classic trench coats in plus sizes. The straight sized ones are more 'trench-like'. I know I can adapt and add features but I don't wanna! I even like the angled storm flaps here. And it has a collar stand! I don't WANT to trace a Burda either, but it's Burda and I know it will work.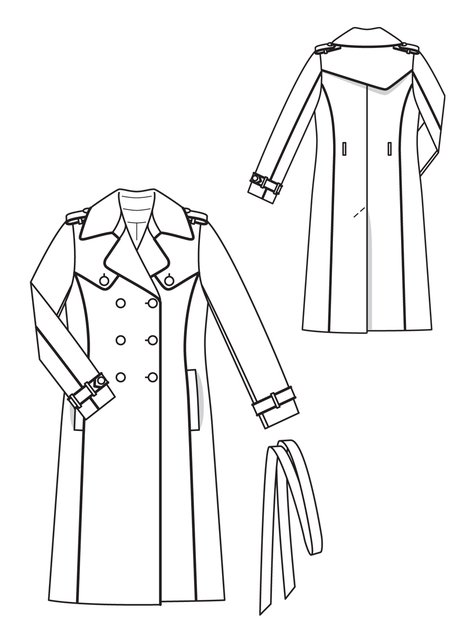 I'd planned on sewing Simplicity 8470 or the Grainline Cascade. I didn't have a winter coat that was casual. I have a couple of jackets but no coats. I was going to hang with my nephews and had on my denim overalls (love them!!) and all of my winter coats felt FAR too dressy. But I was out and about one day at lunch and saw this coat and was like, this is IT! I did not want a traditional puffer with it's shininess. I was so excited! I tried on the Large and...
...Oh. Well that's a
little
snug. I put it back, dejected.
But then I found an XL! WINNING!! So I will be saving my black/white/metallic herringbone coating for another day! :)
So to recap, I hope that over December and January (including my 12 day staycation at year end), I can sew:
4 pairs of pants
2 skirts
1 top
3 dresses
2 blazers
1 other topper
And then the loungewear items, which will take way less time on a per-item basis than everything else! I'll probably sneak pieces in between other sewing.
2 pair of leggings
1 pair of pajama pants
4 knit loungewear tops
That was pretty epic!
Can you believe it's DECEMBER already?! How did that happen?? 2017 is almost over!