Like me, you've probably seen a ton of versions of this pattern in the sewing-sphere. I've had my eye on it for awhile and was SUPER excited to make it.
I had
this
(affiliate link) very cool animal print (snow leopard?) lightweight sweater knit. But I only had a yard!! When I bought the fabric I intended on replicating an old
NL6230
top that I really like but the neckline is too wide and the binding is atrocious :) I wear it ALL the time. And then, I decided M7722 would be perfect! But I only had ONE YARD.
I cut a size 14 and did my normal cheater FBA. I did not have enough fabric for the full upper sleeve. And once I got the pattern pieces cut out and realized how long it was, I decided to shorten it. And I laid everything out and huzzah! I could fit the pattern pieces on the 1yard. I folded the edges in toward the center *just enough* to cut the front and back. After I cut those pieces I was able to fold the remaining yardage in half and cut the sleeves. The sleeve pattern piece is pretty wide as it's gathered on top and bottom...but I made it work!
I did not enjoy making the top with all the gathering. So much gathering!!!!! And while the black wool knit (that I used on B6621) was a good match in stretch and recovery, it was quite a bit thinner. I cut the lower bands double - placed the hemline on the fold of the pattern. I sewed the long edge and then folded it over...like any other sleeve band but just extra long.
I finished and thought it was *SO* cute.
And then I tried it on. Nope, nope, nope. And as mentioned, there are no suggestions needed for "trying to make it work". It doesn't and it isn't deserving of more time and I know I won't wear it as is. Into the donation pile it goes.
The combo of ALL THE VOLUME on top and super slim fitting on the bottom, I just do not like it.
I tried to. I love the print. I would say it could be about an inch longer...
Soooo yeah, 34DDD + wide sleeves at the exact same level = nooooo thank you. I still think it's a cute pattern and love that it HAS worked for so many. Maybe I'll keep it in the collection in case I ever make it to getting a reduction :-p
I also wanted to quickly review the Evie La Luve Frankie panty. I've never had a huge interest in sewing undies or bras and almost every time I sew a knit I think, "how on earth are people using the same fabric to sew underwear?!?!" Now, maybe I just buy super thin ones?? LOL! But I made a couple pair in cotton/lycra jersey and will probably mostly stick to making lace undies should I continue down this path.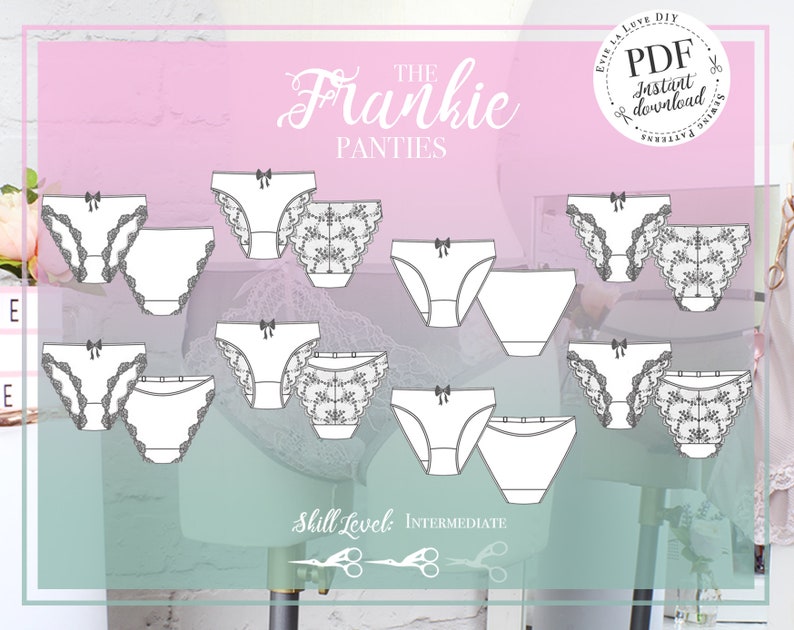 This pattern had really good reviews, looked most similar in cut to my favorite RTW bikini cut briefs, and I liked the variations. Well, while I can see doing a decorative elastic strap on the back, I can't imagine doing it with rings and sliders. Seems like it would be uncomfortable!
My hips measure into the XXL (~43"). I was skeptical though looking at the pattern pieces and cut an XL. I made a muslin and made the following changes to the pattern:
*Added 1/2" to the back pattern piece - yes, this puts the hip measurement into the XXL sizing. BUT, I needed it in back and not in front. Which makes sense with having to do a full butt adjustment on almost everything.
*In that same vein, I added a little more butt coverage in back. I did this as a curved line, with nothing at the side seam and nothing at the crotch seam, I added about 1/2". It worked very well and provides just the right amount of coverage for a round bottom.
*Added 3/8" to the center front tapering to nothing at the side seam. They seemed to dip a bit in the muslin.
*Narrowed the crotch width 3/8" (so 3/4" total!) I swear, every swimsuit pattern I've ever tried has SUPER wide crotch widths and I knew as soon as I traced this one off that it would be too wide.
I made this pair and they are almost *exactly* the same as my fave VS cotton undies.
from my IG stories :)
I used lingerie elastic at the waist and 3/8" swimsuit elastic in the legs (it was what I had on hand!). I made a 2nd pair and was using braided elastic in the legs and way, way too stiff. I will have to rip that out and either just hem the legs on my coverstitch or use some of my newly acquired lingerie elastic.
I bought a bunch of laces so I will try a few more pair. But don't see myself fully on this bandwagon any time soon (after I purchased like 40 yards of lingerie elastics and a whole bunch of lace! LOL!!)
I have spent many, many, many parts of many days trying to re-learn casting on and basic stockinette stitch. Goodness gracious! But I am knitting a swatch now! Woohoo!!!
I can knit about 2 rows then I have to take a break. Hmm, maybe I should make that baby hat a size bigger :-p