I spent an embarrassing amount of time searching for the right skirt pattern for my black & white floral cotton pique I picked up at Metro Textiles. I knew it should be a full skirt, and I have a couple that I've made, but nothing seemed quite right.
And then I saw
Allison's version
...which I'd seen
Dorca's version
first but didn't register the pattern. I think I thought the skirt was RTW and the wrap top was handmade. Dorca has made it twice - both fabulous! At any rate, I knew it would be the perfect pattern for my fabric!!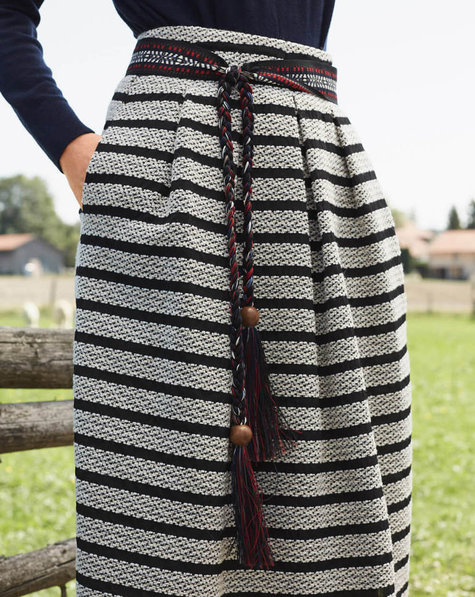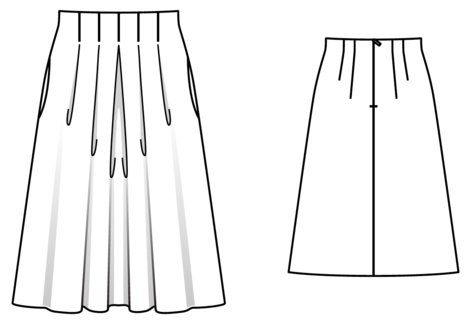 I used my normal Burda sizing for skirts - 42 front and 44 back. I did not add any hem allowances as usual and hemmed at 2 inches. I love the look of midi skirts but rarely like them on my body. I'm more of an 'any length from mini to *just* below the knee' kinda lady.
I used a 9" invisible zipper and made a facing instead of lining it. Once the pleats and darts were sewn, I traced the waistline onto tracing paper and then marked 2 1/4" from that line. I could have made the facing a little deeper.
I finished it with bias tape because why not?! I sewed the facing to the zipper tape by hand and was going to hem by hand but I wasn't sure if I liked it or not and went for the faster (read: FINISHED ALREADY!) route of blind hemming by machine.
I was going to try to "fix" my hem - you can see it dipping forward on the photo above and mine does the same. I decided potentially ruining the hemline wasn't worth it. I also had a bit of a tough time figuring out where on the body the waist is supposed to sit. I guess it's a high-waist skirt?? I think that contributed to me being uncertain about it - that and trying it on with 'night belly'. When I came back a day or two later and tried it on with several tops in the wardrobe, I liked it a lot more.
This skirt is a quick and simple sew. I did get a little messed up with the pockets though. They extend up to the waistline which makes them a bit of a pain to sew IMO! Also, I thought my pockets were gaping but looking at the line drawing now, I guess they're functioning as intended. The only problem is, this pique is pretty 'sticky' and the pockets shift around even though they're caught in the facing/skirt seam. It looks like I should have stitched down further from the waist.
I've also finished my mom's gift (and love it. and want one of my own)...and will review that once she has it in hand. I also have NL6107 to review!! I started tracing the Burda trench (omgomgomgomg so many pieces), really want to sew M7745 and my tees. I need to make a plan! :)
Look at that bias tape finish on the sleeve! *love*
Re: Me Made May...here is what I wore days 8-14.
Day 8: Burda 7107 wrap top, Simplicity 2061 pants, RTW tank
Day 9: True Bias Ogden cami, New Look 6481 jacket, RTW skirt
Day 10: Vogue 9032 pants, RTW shirt
Day 11: McCall's 6964 tee, RTW jeans and jacket
Day 12: Burda 7136 shirt, RTW jeans, Butterick 6244 jacket
Day 13: Burda 1/2016 dress
Day 14: Simplicity 2369 dress and McCall's 6996 cardigan
There was a post on the Sewcialists blog that got me thinking. Every year there's a ton of people who are completely annoyed by MMM and a bunch of people that sort of hem and haw over the "requirements". But there aren't any
requirements.
I mean, right?! Below is my comment on the blog post. Someone else commented and mentioning getting to where I am. That made me remember that I am pretty good about being completely unbothered by what anyone else is doing that doesn't affect me. And that confidence/self-assurance/independence can look a different way to people who are unlike me. I will never not be me, be clear! LOL! I'm just offering some background.
I'm glad you are doing what works for you…but also recognize that the pressure you felt was self-imposed. I mean, lots of people do it. I hear this a lot my 5th year in re: MMM…Not having "enough" handmades to participate (if you have two handmade things then your pledge can include those 2 handmade things!!), etc. And the nature of social media itself makes it worse IMO.
So I think it's totally a personality thing. I don't choose my outfits because I'll be sharing them…I wear what I wear because that's what I want to wear! LOL!!! I have totally worn a garment on subsequent days…I don't aim for 'beautiful, staged' photographs…I don't sew new things "for" MMM, I don't worry about wearing what's "popular" or "trending"…I have to get dressed everyday (well, almost everyday) and then I take a pic and post it.
The best part for me is that I always have some sort of revelation about a garment or outfit combination. This year, as my pledge included wearing "full handmade outfits" twice per week, I've learned that that isn't actually important to me. I realized how EXCITING it is that my handmades and my RTW purchases really meld together. I am very often mixing the two and really, that's a GOOD thing for me! It means I'm making and buying things that actually work for me, for my body, for my lifestyle.
I also love that I find new-to-me patterns or patterns styled in way that makes me take notice, when I'd previously overlooked it.
Most importantly…there's room for all of us no matter how we "use" sewing in our lives!!
I hope that anyone who wants to participate does so, without feeling pressured by what others are doing. Be it fully handmade outfits, wearing all the "of the moment" patterns, taking magazine quality pics, whatever you
think
you need/have/are required to do to participate in Me Made May...just know that there really is no sewing community police. Do you!