*I* was up past midnight sewing this dress!! It was rough!!! But once I decided to go for it and settled on fabrics, I couldn't get it out of my head.
I'd waffled a bit on this one leading up to my birthday; I've mentioned before that construction is generally worked out in my head before I ever cut into the fabric. And I could not work out the CF inset/strap on this to save my life! But, it's actually super simple and it works out well.
I painstakingly marked all the dots and whatnot with tailors tacks but then stitched the straps closed down to what was supposed to be the dot for the neckline opening. Then trimmed it all. Between 1) unpicking stitches on a crepe knit (black! with black thread!) or 2) recutting the bands, I chose to recut.
The front of the dress and the capelet is shaped; the band is a rectangle. You reinforce, turn each RST and stitch the straps close, turn out the straps. Then you open the bands and lie them flat, RST and stitch from the dot to the end. Fold them out, WST and stitch to the front. It all lined up so well!! I had taken the time to baste the front and capelet together.
I love how the neckline comes together!
I wanted to get more pics but unfortunately, I haven't had a ton of extra time this week. And I'm back into the zone and don't want to get backlogged on projects. I hate when that happens. And I have been trying to blog everything because it is my 'online sewing diary' more than anything. I also hate when I search my blog for something and can't find it because I never blogged it :(
With more time I probably would have mirrored the print on the center band but...eh.
The dress is quite fitted (I love it!). I sewed a size 14, did a pivot & slide FBA on the front (didn't even think to do the capelet too and clearly I needed a little extra room). I sewed the CB and side seams at 5'8" up top tapering the CB seam to 3/8" from the waist down and the side seams to 1/2". Because the front bands are attached last per the instructions, it's tough to try on as you go.
I removed 2" from the length and hemmed with the coverstitch. The only "issue" with the dress is the cream ponte is much different than the black. It wrinkles when you maybe, perhaps glance at it (never had any ponte like this) and ironing just that part is not fun because of how it's attached. Boooo! I'm pretty sure all fabric was from Fabric Mart.
I wore the dress to see Hamilton and felt cute and fancy but not overdressed. The show was
AMAZING
by the way!!
The views from the hotel were just amazing. The weather was perfect so we spent a lot of time walking around downtown.
My family spends a lot of time trying to convince me that we should move back...maybe if I could wake up to these views everyday! :-D
I posted stories on IG as I was working on my Butterick 6330 dress (which is now complete and is e.v.e.r.y.t.h.i.n.g.! I wanted to just walk around in it and never take it off!)
this was before any hemming was done
Up next will be McCall's 7780 in a very lightweight cream twill. I am obsessed with this top and must have it NOW! I'd really like to make the other photographed view but want this one NOW. I need more cute tops for going out/weekend.
Also obsessed with the Burnside Bibs. I wanted them after seeing
Bunny's
pair and we know she is NOT going to mince words on the quality of a pattern indie or otherwise. Then, while I was still on the fence I came across
this
interview with the founder and decided to go for it. Indie patterns designed by
trained pattern designers
I am more than willing to try if I like the design! I am less into blogger-turned-'designer'-who learned a little CAD. sorry, not sorry.
I have a lightweight cotton/rayon suiting I plan to use from stash. I bought it awhile ago for a pair of casual pants but I don't really like elastic-waist pants all that much so this will be the perfect use! I think I'm going to go with the shorter style, and definitely the more fitted view with darts and zipper closure. I'm excited!!!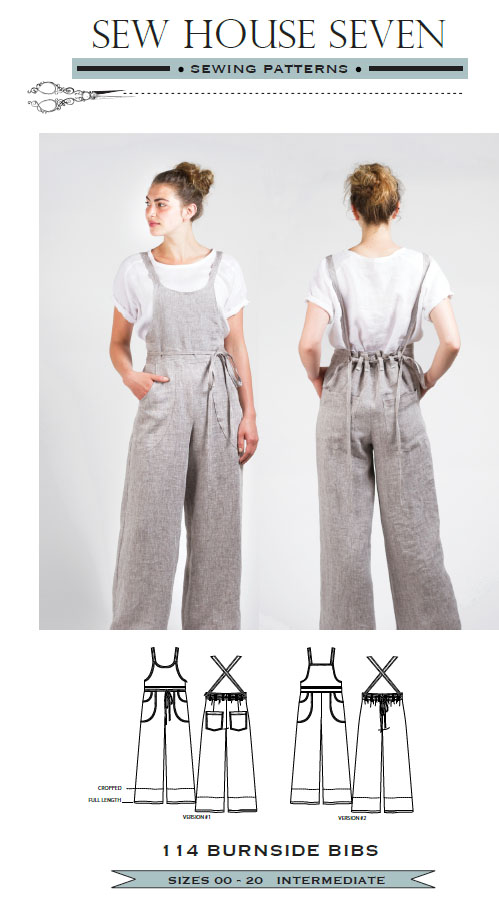 I also caved after 7 weeks of not buying fabric and bought 3 pieces from Mood for casual bottoms. I have jeans but I am just not a jeans-wearer like that. I LOVE sewing them but I rarely reach for them to wear...I'd rather have other types of pants. And I have a strange 'thing' about mixing "work clothes" and "casual/weekend clothes". I mean, some of that is obvious; I'm not wearing an off-shoulder dress to work and I'm not wearing a black sheath to go to Trader Joe's. But even my favorite ankle-length slim pants from LOFT are strictly M-F in my mind. Weird. I know!
I bought black sateen and olive twill, both with Lycra, and plan to make this pair from Burda 8/2012 in olive twill. I actually love the front slit but will probably make these a tiny bit longer and plan to roll them up. They should tuck into boots nicely come fall. I will also add back welts.
I'd like to make McCall's 7547 in the black sateen. I really like the cut on these (even though I do not believe the Big4 when they show 'skinny' pants. I like the higher waist and jeans styling with side zipper. The front will be nice and flat.
I forgot (hence my 'fabric diet) I bought a cut of that amazing Telio Jockey ponte for V1522:
I think this another casual bottom that will transition well into fall.
I've seen so many cute versions of B6562 that I really want to make one for my mom. I have a big cut of chambray that should easily get this top and another top for me down the line! :-D
There's still stuff my original "
rest of summer
" plans but these have my attention
for now
!