I sewed 6.25 yards this month. Womp womp.
McCall's 7726 pants - 2.5 yards

printed stretch cotton twill (new)
zipper

Vogue 9190 - 1.25 yards

olive textured double knit (stash)

Burda 08/2019 - 2.5 yards

print rayon challis (new)
elastic, button (new)
Favorite:
I am really digging the Vogue cardigan! It just works!
FAIL:
Those pants. Gahhhhhhhh.
Accomplishment:
Nothing that was a stretch this month...but that's okay.
Wearing V9190
I'm not so sure yet about the dress from the August Burda. I was really drawn to the fabric in the magazine and chose a fabric with a vertical print.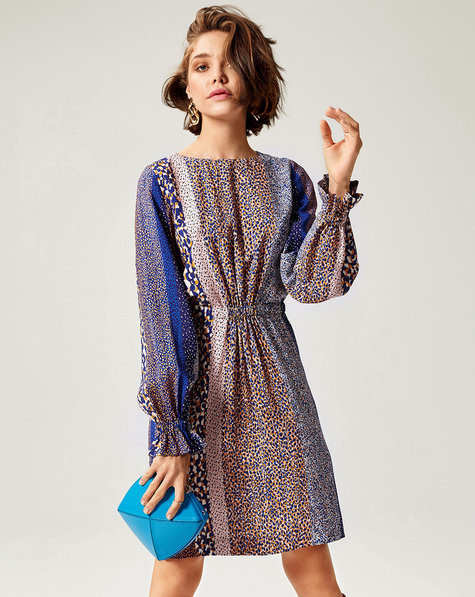 blue, black and white rayon challis from SR Harris
The bust area is a bit "giant box". And I accidentally cut my elastic too small in the waist (more on that later). The elastic is distributed and then scrunched up over the front ~6" (in my size) and same in back, and then stitched in place. So once I realized I'd cut it too small, I knew I wasn't going to unpick the zig-zag stitching that I secured the elastic with. Sighhhh.
I'm up abut 8 lbs from being busy and also lazy (LOL!) so maybe it'll fit a little better later.
I visited my parents this weekend and with so many airlines now gouging customers on ev.er.y thing! I decided I was going to pack light so we could take one suitcase. And then I saw a post by the
Itinerant Seamstress
Including the outfit I wore to fly there, I took:
a jean jacket
a black tank, blue tee, my White Sox tee (we went to the entire series this weekend), a floral Ogden cami
denim shorts, black jeggings, floral pants, floral skirt, grey knit skirt
striped t-shirt maxi dress
gold flat sandals, sporty sandals and sneakers
nightgown, tee, pajama shorts
I would have normally packed twice as much stuff! And I wore everything at least once, but did not wear anywhere near all of the combinations I accounted for.
Knit dress
Sox tee + denim shorts
Sox tee + grey skirt
Navy tee + denim shorts
Ogden cami + floral pants
Ogden cami + floral pants (everyone thought it was a jumpsuit!)
Black tank + floral skirt
Black tank + black jeggings
Black tank + denim shorts
Denim jacket wasn't needed outside of travel time.
I feel so confident now for my plan to pack super light for the sewing class!
I am not a dog person but fell in love with my parent's new puppy this weekend!
He is SO cute and so, so fun!
September Plans:
This is a crazy busy month. I will be out of town 9 days (including weekends) in the first half of the month! Exciting stuff but WHEW!!!
I have stuff with family and friends and my jacket making class with Beth (SunnyGal Sewing) at Hello Stitch.
But then...
Later this month I am having a long-championed-for, coveredy-by-insurance, breast reduction! I am excited and nervous and I have second thoughts then I'm in pain and I'm excited then I'm so nervous and then I see all of my shoulder/torso bruising and then I am excited and then I am terrified and I see my 34F's in something fitted and I'm excited again! LOL!
Recovery can be long, it can be tough. I am hoping for the
best
!
I've done so much research and read so many stories about people's experience with the surgery. It seems as if it can really take awhile for all of the swelling to subside and even longer to 'settle' into your final size. So, sewing should be interesting once I'm back at it.
I plan to use my newfound jacket-making skills to make my husband a corduroy blazer. I also plan to give a go at the Thread Theory Fulford jeans for him.
I will likely sneak in some sewing for myself - for the lower half and maybe some knit toppers...but no worries, I have a few reviews to post still! :-p
Vogue 9190 cardigan
Burda 8/2019 dress
New Look 6459 pants
Simplicity 1430 shorts
McCall's 7246 dress
Burda 4/2019 skirt and dress
New Look 6326 skirt
Butterick 6378 top
Butterick 6621 dress
Lastly, I've partnered with Minerva Crafts and I've got a few meters of
this ponte
. It's a poly/rayon/lycra blend and it's BEAUTIFUL!!
Watch for this project too!