First, I'm going to be one of those people...Feel free to skip ahead...this is a mini rant.
I hate how casual everything and everyone has become. I hate that the idea of "appropriate dress" for the locale and occasion seems non-existent. And no, it doesn't affect me or bother me directly. But still, call me Ms. Complaining McComplainerton.
Today I was asked again --seriously, I've been here 2 years. I don't dress casually!!-- why I was "so dressed up on a Friday". I have on my Burda 7136 chambray skirt and Lekala khaki skirt with a brown leather belt and sandals.
I do have on giant earrings :-D but no other jewelry.
I am not dressed up. I am not dressed up by any stretch of the imagination. 
I honestly do get annoyed by the insistence that a skirt or a dress is automatically 'dressed up' (OMG!!! People's reactions to dresses is insane). A dress is one thing. You put on a single thing and you're done getting dressed! That makes dresses SMART AND AMAZING! Hahahaha! And it's one of the reasons I own so many! I know plenty of ladies who dislike dresses on principal, I get that. But dresses aren't dressy by sheer fact of being a dress. :whine:
/rant off
ANYWAY!
So you may have noticed in some photos that I'm sewing in a different area. DD moved out and I quickly (immediately) moved my basics to her bedroom which is across the hall from my bedroom, a few feet from the kitchen...such a WIN! This has made me realize that in the future, a basement sewing room won't work for me. Right now, my patterns and fabrics are still in the basement (her room is small) and that's okay. But I love the lighting and proximity to the rest of the house.
I decided that I am buying the Brother 2340CV coverstitch machine for my birthday! I've wanted one for-forever and watched some videos on it and am so, so sold. LOL!
I had a nice sturdy desk in the basement that is way too big 1) to lug upstairs and 2) for that bedroom so I set up the folding card table again. Well, the old house must've had more solid floors or something because now it shakes like crazy when the serger is going. I took to PR to ask what people sew on and got lots of suggestions but many were out of the (almost non-existent) budget.
But I don't want to make any permanent arrangements in this room because 1) she's 19. She may be back. Although I moved out at 19 and never lived with my parents again. 2) I rent. The market is absolutely ridiculous if you're a first timer (e.g., don't have a house to sell as well). So while my place is stable, it isn't permanent. I don't want to buy a bunch of new stuff to tailor to this room. But I know exactly what I want when I DO have a permanent space! It'll be an IKEA fest. :)
For now I'm going to plan to paint the super sturdy but not attractive white pine desk with some chalk paint, it should be able to hold the serger and coverstitch just fine. And then I'll just need a table for the sewing machine. Tis the season of garage sales and closet clean outs!
I sewed a new dress, McCall's 7465, view C (blue). OhEmGee! LOVE. Can't wait to review this one!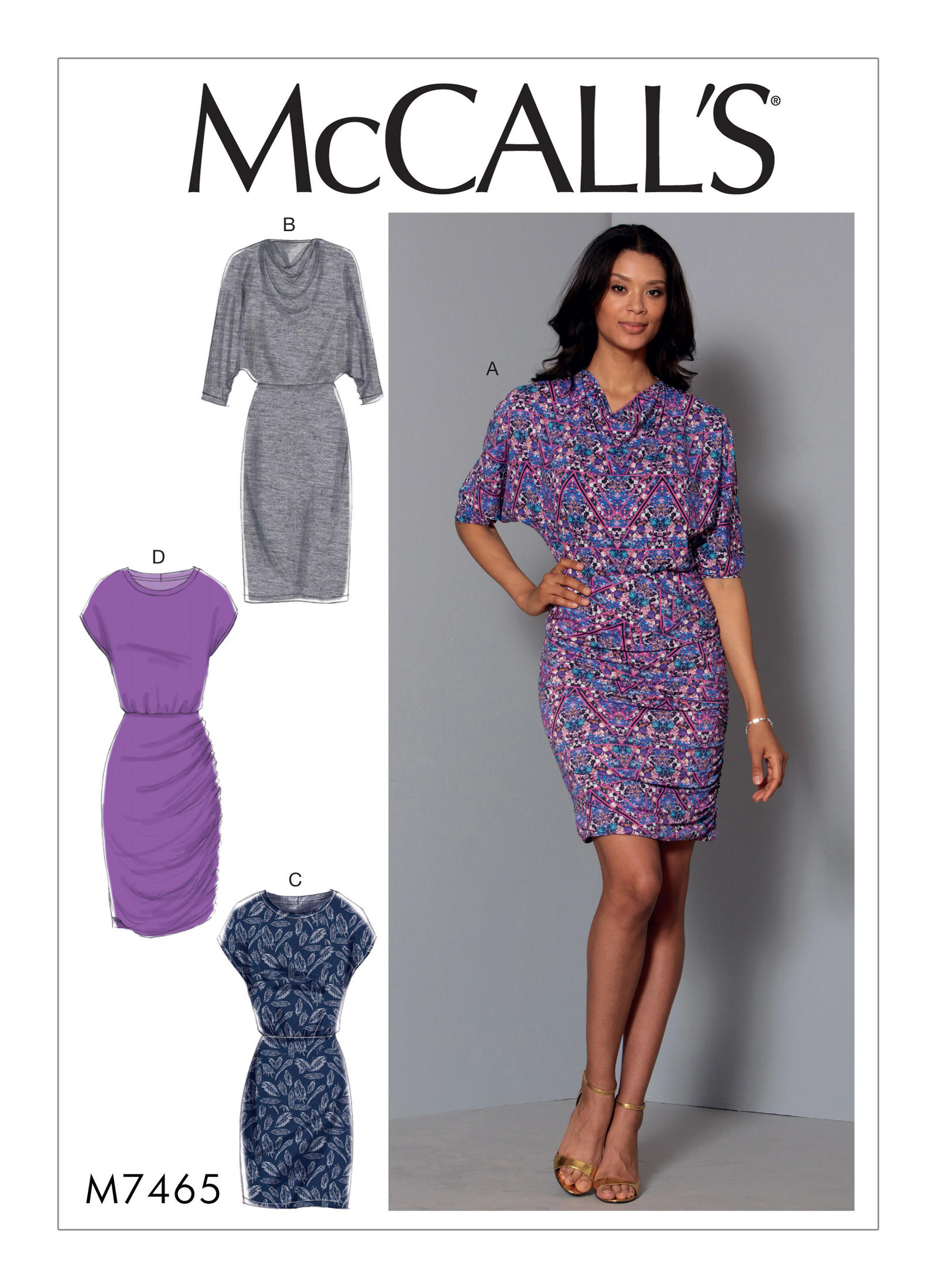 This weekend I want to work on my Burda 6/2017 dress. And actually, I want to get caught up on my Burda Challenge! I've only sewn from March and April so far.
The weather is nice and I've been walking 3-4 days a week. I think I'll make the pants in capri length (will probably stop where the zippers are supposed to start). (01/2017)
I love these pants and have a lightweight linen/cotton blend that I think would be perfect for them! If you've seen this pattern 2/2017 #104, you've seen the weird butt flaps. I'm not doing those.
I really liked this top when it came out, despite Burda using poplin for it. There are tons on the Russian site and it's started to pop up on blogs. It's so cute! (05/2017)
This is the dress I'll be starting this weekend. (06/2017)
I am kind of in love with this weird top from July. I will trace off the lower sleeve but I'd like to see how the top looks without it. This is one of those times where I'm trusting Burda. You all know I will sew some of their weirdness up in a minute! It's oversized -- and when they say oversized, they mean it -- but it looks fun so, why not? I think fabric choice will be key.
Yes, I know I had 10 dresses on dress-a-palooza. I've sewn 2 and another will be my birthday dress. Oh and the Sewaholic Saltspring! I want that so bad!! :) BUT, I had 4 tops on top-a-palooza and sewed all 4! Win!
Additionally, June plans were:
Nettie x2
Burda 2/2013
Burda 6/2017
V1501 skirt
B5760 skirt
I may not make the lace skirt although it is pretty early in the month. I've made the 2 tops and am down to 1 Nettie because of fabric. So see? I'm kinda-sorta on track! :-p
It's supposed to be HOT here this weekend so I may get more sewing done than I originally thought!