Worse news first.
This top from Burda 7/2013 was on my want list for a long time.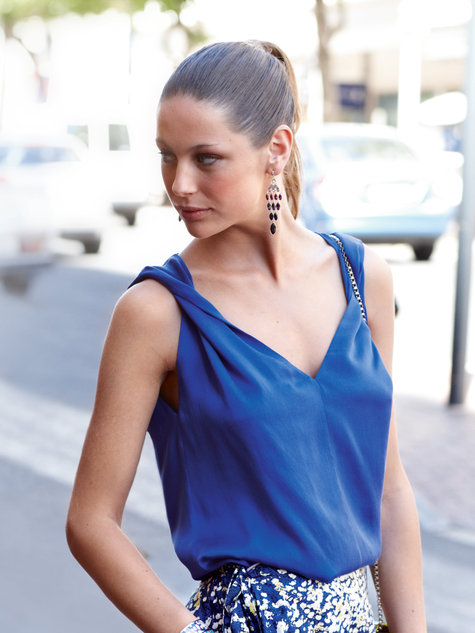 I didn't have a stash fabric in mind and decided to use the blush silk georgette (?? I think it's georgette based on it's hand..."dry", matte, nice drape, semi-sheer until it was doubled) that I'd gotten from SR Harris when I was going to make the wedding guest dress. I was so excited. I practiced my french seams and everything!
I was sewing the lining to the the exterior and it was kind of wonky. In that moment I realized my error.
I have this issue of Burda but I had also purchased this pattern as a download way before getting the magazine. I decided for this simple silhouette, assembling the pdf would be faster. Well having that "paper pattern" messed me all up. I forgot to add seam allowances! I didn't add them ANYWHERE and had done french seams in front, back and sides. I knew there was no way it would fit and decided to finish it anyway. Well, the lack of seam allowances really throws the neckline completely off and it isn't salvageable.
So. So. Sad.
RIP almost pretty blush silk blouse
Quasi fail...I really loved the feel of this ponte when it came. It washed up nicely and the color was just right. I cut out the Nettie, widening the shoulder 1/2".
I went to try it on and it was INSANELY long. Like several inches. But I really liked the scoop neck so I tried to make it work.
I pinched out the excess and measured. I also did a swayback adjustment at this time. I removed 1" from CB alone and then 2.5" after that from front and back.
And I was okay with this because I took it quite low and the seam would always be concealed by my bottoms. But then I tried it on a couple times...this fabric has terrible recovery.
Wah. Wah. Wah.
We'll see if it hangs around.
eta: The Nettie isn't the bodysuit for me. :(
I have some good news!! I have this cute RTW top that I must've put on a bad hanger and the lacework got a hole in it
It was
right
at the shoulder and was very noticeable. I was going to consider this a loss but luckily, I came back to it! I got out my embroidery floss and did a patch job on it! Yay!!
From now on, this one will hang on one of the Joy huggable hangers! :-D