Another year down, another year ahead of us! I cannot believe how quickly time seems to just be flying by. My daughter will be 20 this year, my son will be 18. It doesn't feel like I've been a parent for 20 years but I guess the calendar doesn't lie! :)
Other personal milestones this year include taking (and passing!) a certification exam this month and applying for graduate school in the fall. Also, I have been the same weight for almost all of 2017. I did not lose any weight (well I did when I had the flu but that hardly counts!) and while it isn't something that is super important to me, I know my knees will benefit! I have absolutely perfect numbers across the board. You name it, it is pretty near perfect - blood pressure, A1C and blood sugar, cholesterol, etc etc. Okay, except Vitamin D because 1) I'm brown 2) I'm a tundra dweller 3) I only spend time outside when it's absolutely necessary! But otherwise I'm in good shape and I'm happy with my body and that makes it HARD to find motivation to do anything differently. But my knees!!
I was so enjoying that fitness bootcamp but I'm certain now that it did not do my damaged hand any favors. Sigh. I'm coming up with a plan! ((And no, my hand is still not fully healed.))
On to sewing!!!!
I have a lot of clothes.
Oh my gosh, you're SO shocked and amazed, right?!?
:-p
As a tundra dweller, the seasons are more winter/early spring, spring/summer, summer/early fall and fall/winter. Aside from winter, none of the seasons are 'true'. There's some serious bleeding of one into the other. Like, there may be a couple of weeks in summer where it's actually hot enough to NEED sleeveless tops/dresses for work. Spring arrives long after the calendar says so but my desire to shed dark clothing comes much sooner. So I'm always trying to maintain a balance there.
I don't really need much more for the cold season. I have to make this black dress, finishing off my basic work capsule, and then I need to temporarily divert my attention because my closet overflows. I am just
ecstatic
with my loungewear collection (reviews are coming as soon as I finish the hoodie!!) and now I want some sleepwear items. By the way, these are two different things for me. Since I pretty much dress on the cusp of business casual & business professional, I tend to change clothes as soon as I come home from work. This is where the loungewear comes in for me. And for those days when I'm staying in all day (and binging movies or binging sewing!).
For sleepwear, I would like 2 nightgowns and 2 pair of sleep shorts. I have plenty tees and tanks and can't sleep in pants unless it's REALLY cold. And that hasn't happened yet even with temps at -15 and windchills of -35. I just run too hot to sleep in pants.
I also want the few outerwear pieces I discussed previously - Closet Case Clare in black wool coating, Burda 8/2017 short coat in navy melton and pattern tbd trench coat in a khaki/tan color.
I'm making this view in black with black lining, 'gold' piping(!) and a 'gold' zipper.
This jacket in navy with navy lining. Maybe I'll add red or hot pink piping.
Oh! I need buttons for this!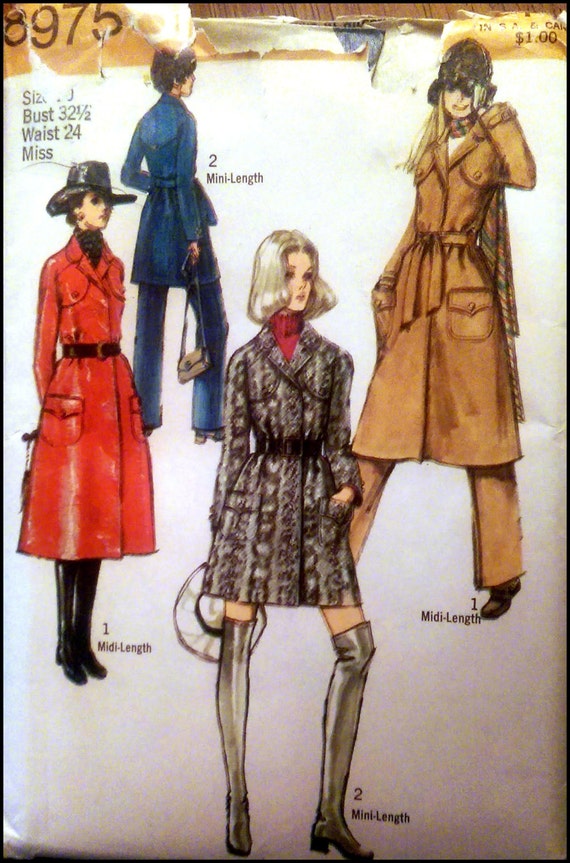 This vintage Simplicity was on my radar for all of it's trench details. But now, I am not so sure.
1) It's a raglan. I believe that, as much as I love my
S2508
, I don't care much for raglans and I don't wear it nearly as much as my coats with set-in sleeves
2) It doesn't have much shaping at all; that's done with the belt
3) It doesn't have a collar stand. Easy to say just add it, but there's a reason I have never been interested in any sort of pattern drafting ;)
So as much as the idea of tracing this makes me want to cry...I think this Burda 11/2012 pattern is the one, sans piping. It really has everything I want. If Burda had copy-shop printing I would just buy it and print it!!
I don't mind the angled gunflaps in front but don't really like it in back. That I will change. The other view from the mag has more traditional versions of these pieces and I'll use those:
Again, I'm hoping to make the ever elusive "perfect" summer wardrobe. I'm just not good with sewing up work or casual summer clothes. I am never fully satisfied. I probably need to figure out if it's a case of my vision of 'summer clothes' not matching my reality and adjust. This year I may use RTW pieces as inspiration and do a copy-cat capsule.
To round up...for the first four months of the year I'll be quite focused (the 2018 SWAP may or may not pan out. I don't want to focus on that and the site may be going paid subscription only). Also we KNOW that something 'shiny' will slip in. e.g. the green Burda wrap top was 'shiny' but it was so worth it!
-complete black work wear wardrobe (1 more item-in progress)
-complete loungewear wardrobe (2 more items)
-complete sleepwear wardrobe (4 items)
-complete 3 outerwear items
-complete a replacement pair of Birkin flare jeans
-sew a silk slip in a nude-to-me color (I got some swatches from Mood for this recently!)
-participate in PR Red Carpet contest in March
Now, I have absolutely no need at this moment for anything 'red carpet'. But I think it will be a nice challenge and fun to do. And because I don't
need
it, less pressure. I'm hoping I can enjoy the process and learn something new along the way! I'm thinking of this pattern from 11/2014: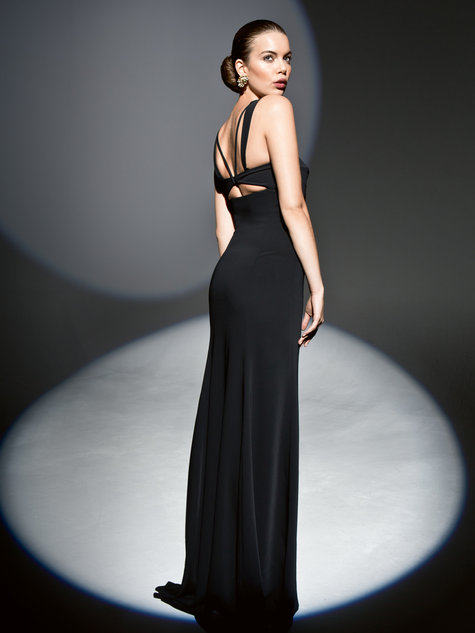 I think it's gorgeous and have thought about this pattern since that issue was released! I already have 4 yards of charmeuse in a lovely jade color! :-D
2018 Sewing Resolutions:
No new fabric prior to May 1 except the silk for the slip.
I have everything in stash for the above projects including lining fabrics. I will need some notions (e.g. tons of buttons for the trench) but my stash is at that slightly overwhelming point right now. And I go in and look for something and come across something else that I completely forgot about! I want to WEAR those pieces not pet them in the stash!!!
I just culled 70+ patterns from the stash. I will tell you that is slightly less than 10% of my stash (doh!). I can add 18 new patterns to stash this year (about 25% of what I culled). I am getting to the point that a) not many details are new compared to what I have b) I can start to add some design details to existing patterns vs buying new c) my Burda stash is nice and deep (almost 5 years worth of mags).
The new McCall's release did not entice AT ALL. Blergh.
I want to track:
What patterns I use e.g., TNT vs used before vs new
Success/failure throughout the year vs at year end
What I'm wearing. I plan to take a photo-a-day. I will NOT share my daily outfit pics - don't worry! :-p I may do summaries here and there.
Fabric in/out. I missed it this year. I didn't think I was really paying as much attention but I suppose I was!
Spending; fabrics, notions, other (marking tools, cutting tools, Wonder Tape :p )
I am still doing the Burda challenge. I want to challenge myself to sew at least 18 Burda magazine patterns in this year. They may or may not be from the current issue.
Sewing Community engagement:
I love the community as a whole. Sewing is a solitary hobby and it is nice to share the love. But for 2018 I have got to stop engaging in these "Big4=bad; Indie=good" debates. It makes me all spazzy and ragey. I honestly don't care if anyone never, ever, ever touches a Big4 pattern. I really don't. Don't like them? Don't sew them!! There are tons of Indie patterns I wouldn't touch with a 10 foot pole and others I love!
But why on earth must the Big4 always(!!!) be denigrated to discuss how much one likes Indies? WHY IS THIS A THING?!
There is a reason that Butterick has been around since 1863, McCall's since 1870, Vogue since 1899 and Simplicity since 1927. I've only been sewing for 5 years and have seen a couple decent Indie companies come and go. Sewaholic was around for less than 7 years and those were solid patterns with great instructions and she had a huge following!
So I'd like it if people stopped pretending like Indie companies are going to wipe Big4 off the map because of their presumed superiority. Can't we just let them coexist?? Can't you primarily sew your Indies and love it while I primarily sew my Big4 and Burdas and love it? That can work, right? We can do that, RIGHT?!?!? :-p
Aside from that specific goal, I want to continue being more positive. I have done so much better with exiting conversations that feel purposeless (yeah, yeah, except for the above! LOL!). I've gotten back to focusing on being encouraging and engaging with the more positive aspects of the community and will continue to do so.
I love to blog my sewing and I love to read blogs about sewing. I re-joined Instagram to provide more of an audience to Cricut for my projects but my heart isn't in it thus far. So for the foreseeable future, I'll be here, blogging my projects.
January Sewing Plans:
Black Burda 6853 (WIP)
Grey Burda 1/2018 hoodie
thoughts on zipper choice?:
Black S8424 leggings (I love this legging pattern)
Butterick 6247 in cream jersey (official Cricut project)
Finish NL6530 skirt (just needs elastic and hemming)
Review the tons of things I've finished!
Happy New Year!!! Let's make 2018 GREAT!