Can you believe we're already done with 1/4 of this year?! Eesh.
This month I sewed 8 garments and used 17.75 yards. Only I would think to myself "gee, I thought that number would be higher with sew camp..." :)
I made:
Burda 7/2017 #115 shirt - 2.5 yards

black & white wide stripe cotton shirting
sew-in snaps

RTW rub-off top for my daughter - 2 yards

mustard poly crepe
teal arrow print shirting

Simplicity 8601 top - 2 yards

blue & white striped cotton poplin
button and elastic for loop

Burda 7/2017 #106 pants - 2.25 yards

tan suiting (this fabric was WIDE!)
zipper, hook & eye

McCall's 7687 top for my daughter - 2 yards

mustard & white striped cotton poplin
20" mustard zipper

Ottobre 2/2018 dress - 3 yards

black IKAT print jersey
black tricot lining

Ottobre 2/2018 top - 1.5 yards

grey & white stripe cotton jersey

McCall's 7724 top - 2.5 yards WIP

medium blue cotton chambray
blue & white striped shirting
buttons
Favorite:
It's a toss up between my black & white top and my daughter's top. I have to get pics of it on her but M7687 looks FANTASTIC on her. It's just gorgeous. And I am totally stealing that sleeve for a top!
Accomplishments:
I'd have to say her RTW rub off. I took an oversized knit tee (she's tiny and likes large tees) and made it from a woven. I was so uncertain about it (Never mind I didn't really care for her fabric combo!) but when she got home one day, she had it on, but I didn't even recognize it! I thought it was a top she'd purchased initially!! So that was a proud moment.
Fails:
So far, this M7724 top. I don't know what went wrong. I let it out as much as I can. But I am just so unsure about what went wrong.
For Operation 365. I did not get pics everyday, but then there were several days that I spent in lounge clothes. It's still winter here so I still wore pants a ton. And dressed in 3-pieces about 40% of the time :) Here are my favorite 5 looks from the month:
Left: top-all RTW, bottom-S8601 and RTW pants
Center: Burda 7136 top and RTW pants
Right: top-V9032 pants and RTW top and cardigan, bottom-Burda 7107 top, RTW tank and pants
Absolutely LOVE those LOFT striped pants with my chambray top. Love. Love. Love.
My April sewing plans aren't sew in stone. I made a BIG list of spring garments that I want -- it has 16 items on it. I know...I sewed 8 garments this month so 16 doesn't seem like a big list right?
But I'm traveling twice this month and have some other stuff going on...plus I have 2 outerwear pieces on that list and a blazer. All fairly involved projects. I did discover in sewing M7724 that my hand is much happier cutting single layer so that may be my reality for a little bit.
(UPDATE: I GOT AN MRI TODAY AND SHOULD HAVE RESULTS SOON!)
I want to sew the trench from Burda 4/2018 (scrapped the traditional in favor of this funky jacket!) and the short coat from Burda 8/2017. I WANT the trench now but we still have multiple snow falls predicted and a trench coat is likely to be unworn until May. And I usually need some type of outerwear in the morning through June. So I'll make the coat first. Plus, my black coat is in purgatory. (my sewing fails always seem to come back to back)
And I want tie-front blouses! As much as I love Burda, I do get a little burned out on them sometimes. So with plans to sew several Burda items over the next couple months, I'm going to my envelope pattern stash on this one. I am looking at Simplicity 8216 (which I've sewn before), Butterick 6378 (view A or B) and Butterick 6488 (view C or D) which is new to me.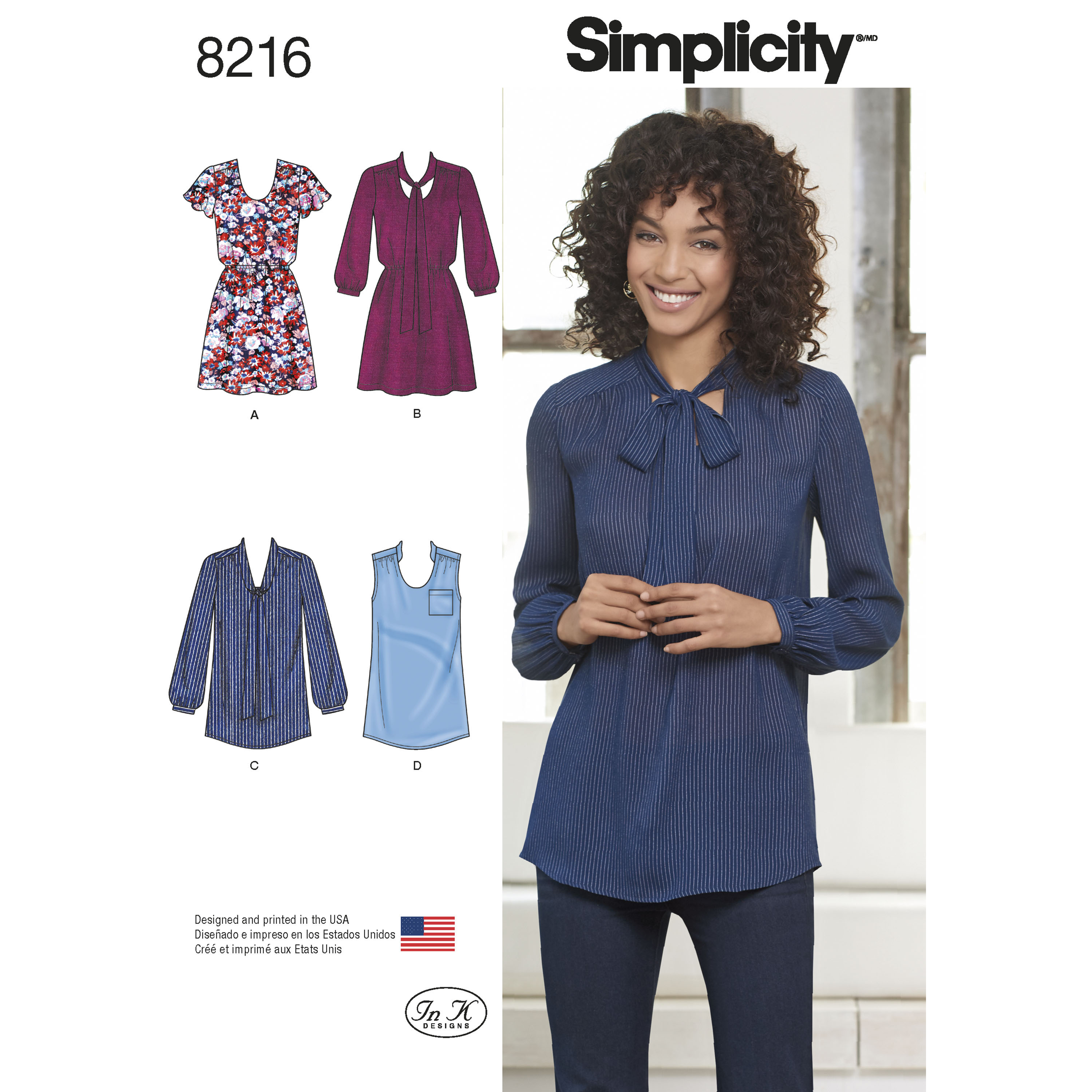 I may end up making both of the Butterick patterns. They are different enough that I think I could own both!