I almost referred to it as a 'comeback'...but in all fairness this was completed before the failed striped dress :)
Yet another case of "SQUEEEE! I love that and have to have it!" when this came out. I really want to make the red jumpsuit version too, but knew the sleeveless romper was up first.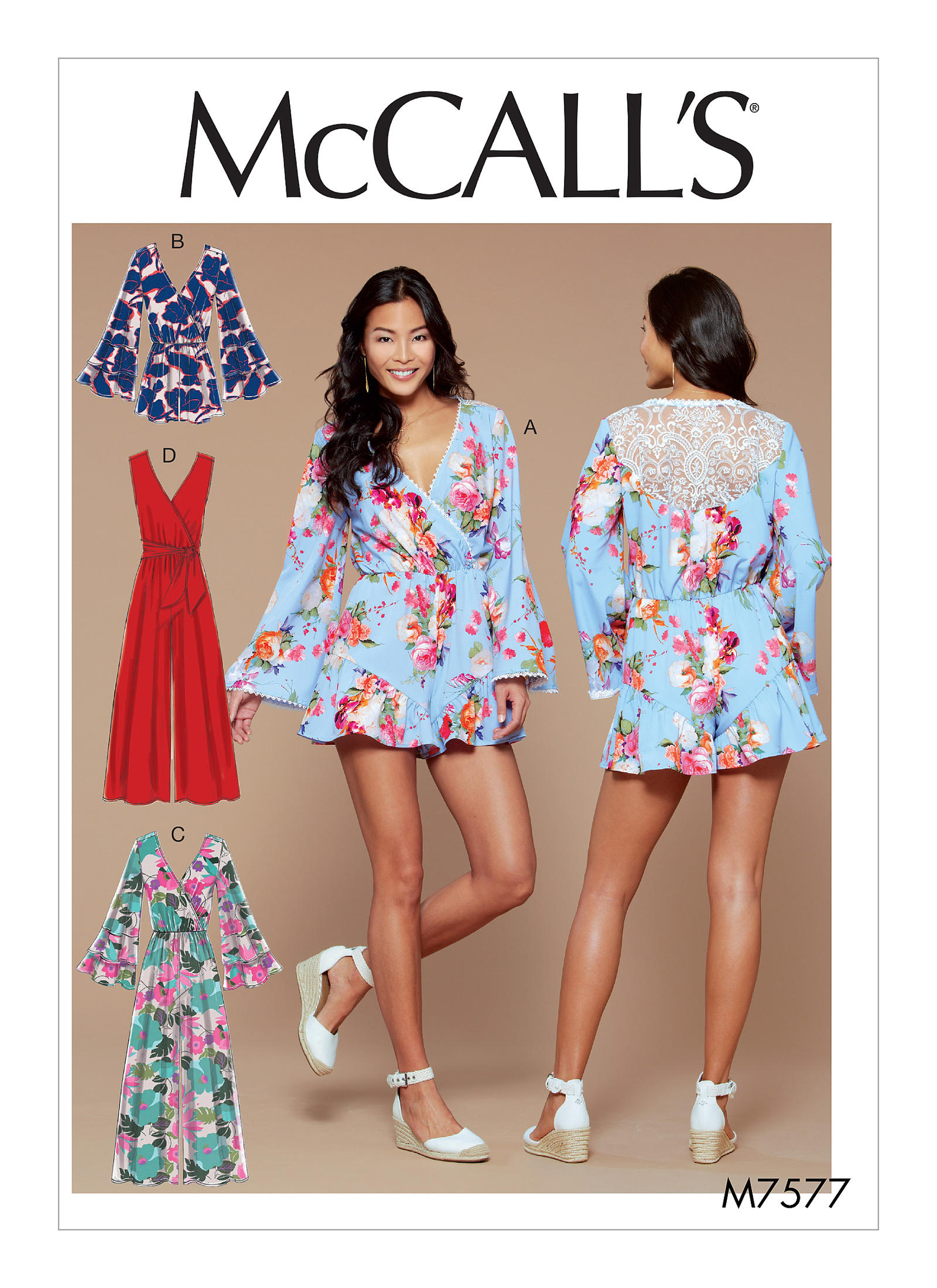 There are already a couple versions out there and I couldn't wait to tackle my own. I wanted those ruffled shorts for sure, and sleeveless of course for vacation.
Don't mind my bad posture on the right...
The bodice is roomy but not at all sloppy. I like the blousing a lot.
Pattern Description:
Loose fitting pull on romper and jumpsuit have shaped back yoke, sleeve and length variations.
Pattern Sizing:
6-14 and 14-22. I cut my normal Big4 size: 14 neck and shoulder, 16 through the bust and waist, 18 through the hip. On the front of the shorts, I cut the crotch curve at a 16. I didn't make any adjustments on the bodice for the larger back shorts because of the elastic waist.
Did it look like the photo/drawing on the pattern envelope once you were done sewing with it?
I created my own view! :) I made the ruffled romper (modeled) but without sleeves.
Were the instructions easy to follow?
Yes. It's all pretty clear cut, IMO. And the order of everything makes sense.
What did you particularly like or dislike about the pattern?
I don't know the purpose of the puny little pleat in back! I would just gather the back to fit if I made another version.
You can barely find the pleat!
It's tough to get woven jumpsuits with no closure on and off. Make sure you allow the bodice to be nice and roomy. I can get it on with minimal stress but getting it off is a little bit of an act in acrobatics!
I LOVE IT otherwise! When I first finished it, I was on the fence. I thought it looked too much like a *tiny* dress. But now, I think it's super cute and it fits well and I love the print. SOLD!
I was leaning forward a little and looking down. It doesn't really show that much cleavage!
It is short though! It feels *just* past my butt but I guess it IS a few inches past :)
Fabric Used:
Precut rayon blend fabric from FabricMart. Lace was in the stash (I think it's cotton) but also purchased from FM.
Pattern alterations or any design changes you made:
Cut sizing as I needed it as mentioned above. I used premade bias tape -- make your own if you can...it's a little too stiff. But this fabric would NOT press and I wasn't about to stress myself out over it. I couldn't find the plain black cotton I knew I had (which of course, I found it yesterday!) so I used premade.
I normally press seams to the back, but I went to the front so it wouldn't show through the lace.
I do find the elastic waist quite bulky. There is a 1" seam allowance at the waist. If I make it again I'll just use a 5/8" seam with 3/8" elastic. I won't bother shortening the bodice because a little extra length would be nice!
Added 1" to the back rise - this was JUST barely enough. Jumpsuits/rompers require more crotch depth. The norm for me is to add 1" to the back rise. I could've added a little more. Also, I normally shorten the front rise about 3/4". I cut it smaller and did not shorten it.
Lastly, I have a tailor's tack where I want to sew a snap. It can fall open depending on how I move. Necessary to get it on and off, but I don't want to be exposing myself!
Would you sew it again? Would you recommend it to others?
I would! I want to make the sleeveless jumpsuit!
Conclusion:
WINNER! It feels very summery despite the darker fabric and I adore it with these wedges!
Next up...
I had to do some reworking of the sweater I was making with that Thakoon and pleather. It's almost done. And I'm also working on the cool, quirky dress from
Vogue 1501
for an event I have before the trip. Which almost got nixed as a dress and left as a skirt when I got to this point...
...But the bodice required a ton of work so it will be a dress...but I think I will be ALSO making it as a skirt using the same fabric! It is a beautifully fitting skirt!!! More on that later!