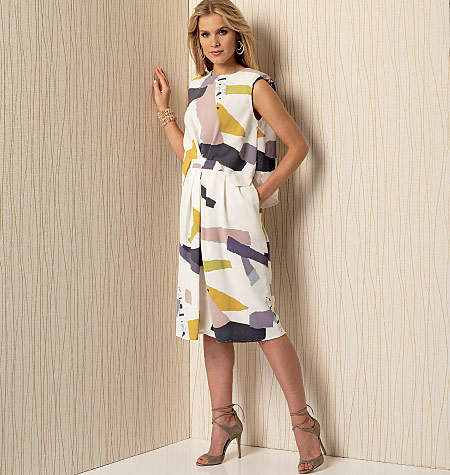 I know, right? Luckily, I've managed to learn to look beyond the pattern photo...and when it's a designer pattern, Google is definitely your friend!
Here is the dress:
IDK why it looks so much cooler on the designer's model but that happens often!
It's SUPER cool in a solid and I've decided I have to have a black one! Eek!
POCKETSES!!!!!
The movement in the skirt is wonderful!
Pattern Description:
Sleeveless dress has shoulder pads, loose-fitting, shaped, front pleated bodice attached to waistband (front only), front pleated skirt, side pockets, narrow hem, back neck slit, button/loop, and invisible zipper. Purchased bias tape finishes seams.
Pattern Sizing:
6-14 and 14-22. I sewed a 14/16/18.
14 neck/shoulder, 16 through the bust and waist, and an 18 in the skirt.
Did it look like the photo/drawing on the pattern envelope once you were done sewing with it?
It does and I love it! <3
Were the instructions easy to follow?
They were. I got confused by the bodice pleats though and mine are wrong. :( I stitched them (like release tucks??) on the wrong side when they're just supposed to be folded and basted.
inside
outside
FYI, if you aren't adding the gusset for the shoulder pad, you don't need to partially sew the front/back and facings.
When I sewed the
J.Crew knockoff
dress, I mentioned liking the 3-open-seams method of lining a sleeveless dress. This pattern sews the seams on bodice and facings, but leaves the shoulder seams open; and then they are sewn in the round. This works fine here because the shoulders are nice and wide. On that Burda dress, with those narrow shoulders, that would've been a bit of a nightmare (btdt).
All in one facings are prettttty neat.
What did you particularly like or dislike about the pattern?
It's interesting, modern, and chic. It's actually fitted but doesn't look it. A really great pattern.
The front tuck detail is perfect and your body will be fully covered even thought that's the only place where it's connected to the skirt.
I have a pretty short torso! I have the skirt at my natural waist.
Now, getting out of it is weird...but it's worth it :)
Invisible zipper
The bodice hem has these angles that are kind of soft on mine because...poly blouse weight.
Surprisingly, it looks fantastic with a 1/2" shoulder pad! The pattern recommends 3/4" which is over the top (like the pattern photo). I'm going to make a self-fabric covered 3/8" pad and add it. I really like it with the store-bought pad, but it's too thick and bulky.
I had a photo but my terrible posture made it impossible to see the difference in the two.
The waistband was uninterfaced and the facing interfaced. I find it's usually the other way around...is this to keep the outside "soft"?
Fabric Used:
Poly blouseweight woven from Fabric Mart. I bought 5 yards of this stuff, I loved the print so much!
It shreds so be careful if you have it...but it does take a press with a little steam. And OMG! My serger
hated
this stuff. I had to go with some crazy settings to get it to feed through without the being eaten.
Pattern alterations or any design changes you made:
The skirt has volume in front due to the pleats but it is actually semi-fitted through the hips, and fitted at the waist.
I used a size 18 skirt and waistband but ended up with like an extra 3/4" of fabric on my waistband (and facing!) so me thinks I did not do a perfect job on folding in those pleats - mark them carefully!!. As a result it zips at my natural waist but
only
at my natural waist. LOL!
I ain't French seaming pockets. That is not something I even remotely care about...so it didn't happen.
I have a big head. There's a back slit at I can just get it over my head. Oh and I totally forgot about the fabric loop when I sewed up the bodice/facing and ended up just doing a hook & eye at the neckline.
Would you sew it again? Would you recommend it to others:
As mentioned I am making this as a skirt in the same print and would love to have it in black.
Highly recommend it and my biggest tip would be FIT THAT WAISTBAND! Thankfully, the waistband piece has finished pattern measurements!
Oh! How could I forget...When I got ready to sew this, I started cutting the pattern pieces - I always rough cut, iron, cut - I got to the waistband and saw that the 14 was the largest size and the finished waist was 30.5"! My waist is 34.5"!!! I was hemming and hawing and a lightbulb went off...Vogue was on sale at JoAnn. So I went and got a new pattern!
I have NO IDEA why I had the smaller size range on this. Sheesh. But, if you want it, it's YOURS. I have to say US only, unless you're willing to pay for shipping. I would estimate, with an envelope, 4 oz (probably less but that's a safe bet), and you can check shipping rates at usps.com and use zip code 55401. I will use a random number generator based on comments.
As mentioned, a few pieces are rough cut (meaning all size cutting lines are still intact; and it's size 6-14).
**I'll post the winner for the pattern on Saturday, 5/13. So any comments through Friday, 5/12 will be included. Thanks!!**
Conclusion:
Love. I really love everything about it. Even the higher neckline works! Bummed that I didn't get to wear it to my event on Monday (it
snowed
. Only a little...but it was 30 degrees and nighttime and way too cold to wear this. Booooo tundra!)