I just happened to be wearing these LOFT pants that day...I think they're way too bright for this top.
Pattern Description:
This oversized chunky knit sweater will be perfect for chilly fall days. The wide collar forms a counterpoint to the long raglan sleeves. An inconspicuous zipper allows for easy on and off.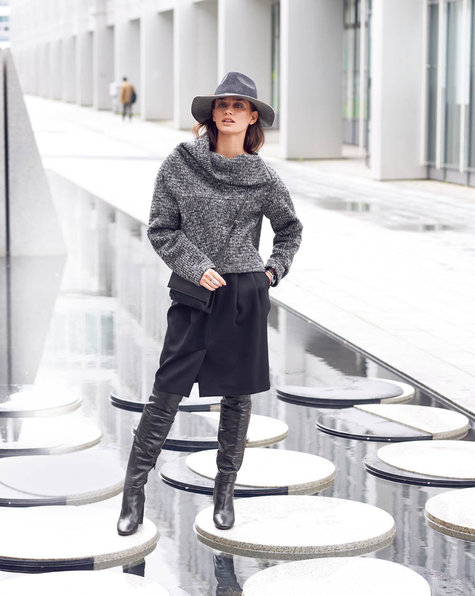 Pattern Sizing:
34-44. I cut a 42, which I've made this
before
, and decided not to add any side seam allowances to the bodice or sleeve. I did add seam allowances of 3/8" to the CF, CB, shoulder/collar and where the sleeve connects to the bodice. I did not add hem allowance.
Did it look like the photo/drawing on the pattern envelope once you were done sewing with it?
It did! I loved this sweater so much and it got caught in Sweatergate 2016. I was so excited when I realized it would work perfectly for this Thakoon fabric.
Designer inspiration:
Were the instructions easy to follow?
Actually, yes! It's the featured sewing lesson pattern.
What did you particularly like or dislike about the pattern?
I love the style. I actually really like the hi-low hem on this. The sleeves are EXTRA roomy which I don't care for...
Fabric Used:
Thakoon sweatershirt fleece or French terry?? I'm not sure. I know I don't like French terry. I feel like I'm the only person who doesn't...I don't like sewing it and I don't like wearing it. And this reminded me of it but it's gorgeous so I figured it was worth it :)
And Telio "perfection fused leather" from Fabric.com by way of Amazon.
I feel like this photo accurately captures the texture! It's yummy!
Pattern alterations or any design changes you made:
Mostly what was mentioned in sizing. The collar is really floppy and the fabric has an obvious wrong side. I did a double turned 5/8" hem to remove a little height. Because of the fabric, I also did a double turned hem on the bottom. But I have a short torso so this works out fine, especially with Burda.
This was started on April 16th and finished on April 30th. EESH.
I had initially made the entire sleeve pleather and it was WAY too stiff. And because it's a raglan-type sleeve I had to do a lot of dismantling to change it. I was not a happy camper.
I only had scraps of fabric at that point and the fabric part of the sleeve was basically based on the scraps. I then layered the new partial sleeve over the old full pleather sleeve and added 1/2" to the pleather, and cut it there. I attached them with a 1/4" seam allowance.
The pleather sewed just fine with a size 14 stretch needle, slightly looser tension and a longer stitch length. When it came time to hem the sleeves, it was not working. I switched to a leather needle which was worse. Funnily, I got it to feed just fine sewing from the 'outside' vs when I was sewing inside the sleeve, with the exposed part in contact with the feed dogs.
I turned my iron off and let it cool till it was *just* warm, placed my press cloth over the sleeve hems, and light pressed, then finger pressed. This worked out well.
My serger stitches are blue because I'd switched to the Vogue dress when I realized I had to take this apart! But the fabric did need serging because the inside is all loopy.
Would you sew it again? Would you recommend it to others?
I don't know how many of these I can have, but it's a fun top. I know I was pushing it getting this done in April but I got to wear it once at least! Hopefully it won't get cold enough again! LOL!
When I originally decided to make this I just wanted so badly to pair with my new quickie skirt; version number 4? 5? of M6654. I bought 1 yard of this double knit from Fabric Mart - nope, I thought NOTHING about matching that huge print. Good grief.
I cut a size 14, at a length between views C and D, and sewed 3/8" side seams as with prior versions.
However, I wanted to "sew this up quick" before I had to get my son and accidentally serged the waist seam and hem seam instead of the side seams! hahahaha! So rather than unpick, I just cut that off. I adjusted my waistband and just took the loss on length on the skirt. The edge is serged and it's turned up with a 3/4" hem and stitched with a twin-needle.
Ahhhh. So close on those side seams :)